The Automated Teller Machine (ATM) is one of the mostly-used machines by common people of the country for monetary transactions.
The ATM was first set up in India by HSBC at Mumbai in 1987.
Now, in most of the towns across India including the Northeast, there is an ATM.
The ATM came to news recently after the Reserve Bank of India (RBI) issued clarifications over usage of ATMs and free ATM transactions to the banks.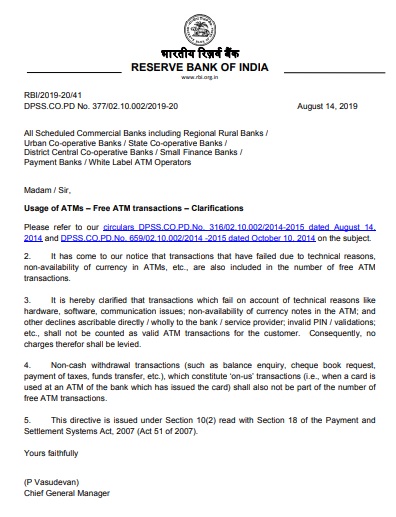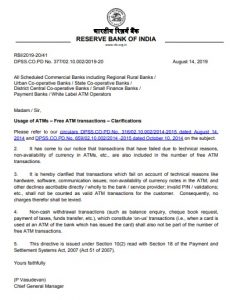 The banks include Regional Rural Banks, Urban Co-operative Banks / State Co-operative Banks, District Central Co-operative Banks, Small Finance Banks, Payment Banks and White Label ATM Operators.
The most common transactions made by common ATM users are cash withdrawal, balance enquiry, change of PIN and retrieval of mini statement.
The clarifications were issued by RBI Chief General Manager P. Vasudevan on August 14, 2019.
The apex bank stated: "It has come to our notice that transactions that have failed due to technical reasons, non-availability of currency in ATMs, etc., are also included in the number of free ATM transactions."
The bank clarified that transactions, which fail on account of technical reasons like hardware, software and communication issues, will not be counted valid as ATM transactions of the customer.
It also said non-availability of currency notes in the ATM; and other declines ascribable directly / wholly to the bank / service provider and invalid PIN / validations will also not be counted as valid transactions.
In such cases, the banks will not be able to levy any charge against the customers.
It is a known fact that many banks levy charge even if its customers check balance in their bank accounts through ATM.
For example, as of now, State Bank of India offers eight free transactions to its regular savings bank account holders of which five transactions are withdrawals from SBI ATMs and three from another bank ATM's.
Some banks also levy charge if a customer fails to get information about the balance in his account.
It has been reported that the State Bank of India (SBI) offers free 8 free transactions to its regular savings bank account holders.
Out of these 8 transactions, 5 are free at SBI ATMs and 3 in other banks' ATMs.
The RBI also clarified that non-cash withdrawal transactions (such as balance enquiry, cheque book request, payment of taxes, funds transfer, etc.) will not be part of the number of free ATM transactions.
The directive was issued by the bank regulator under Section 10(2) read with Section 18 of the Payment and Settlement Systems Act, 2007 (Act 51 of 2007).