Reiterating Centre's commitment to provide all support to the flood affected States, Prime Minister Narendra Modi on Sunday said that all assistance would be provided to the flood affected States to deal with the flood situation currently affecting parts of the country.
Prime Minister Modi was addressing the Chief Ministers and other Government officials at the fourth meeting of the Governing Council of NITI Aayog, in Rashtrapati Bhawan Cultural Centre in New Delhi.
"The Governing Council is a platform that can bring about historic change," said Modi while delivering the opening remarks.
He said that on the lines of the 115 aspirational districts identified by NITI Aayog, States can define their own parameters to identify 20 percent of the total blocks in the State as aspirational blocks.
"Assam has 7 aspirational districts. The Deputy Commissioners of these districts are formulating district action plans and two districts have already submitted their plans. We are implementing extended Gram Swaraj Abhiyan from June 1, 2018 upto August 15, 2018. Steps are being taken for implementation seven flagship programmes in the seven districts of Assam in a time bound manner," said Chief Minister Sarbananda Sonowal.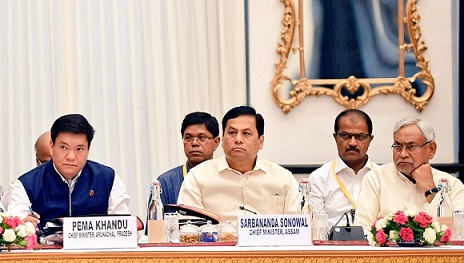 Sonowal, however, took the opportunity to inform country's top governing bodies as well as the Prime Minister about the several developmental steps he has taken ever since he became the Chief Minister.
He said that Assam's annual revenue has increased to Rs 15,776 crore during 2017-18 against Rs 12,847 crore in 2015-16.
"The expenditure during 2015-16 was 41,929 crore which shoot up to Rs 70,105 crore in 2017-18. The capital expenditure during 2017-18 has increased to Rs 12,817 crore against Rs 4,919 crore during 2015-16, an increase of 100 percent," said Sonowal.
He also said that Assam government has detected and cancelled more than four lakh bogus job cards.
"Emphasis is also being given for timely release of wages to job card holders. In 205-16, the delay in wage payment to job card holders was as high as 81 percent which has been brought to 18 percent in 2017-18," the Chief Minister said.