It's the one thing that can threaten the very backbone of news media and people's reliance on trusted media channels to stay informed and updated – 'fake news'.
The cases in question, currently, are two news reports that started doing the rounds on the social media channels of several media houses in the Northeast early this week.
One was an account of a supposed 7-year-old girl Licypriya Kangujam from Manipur believed to be on her way to the United Nations headquarters in Geneva, Switzerland to address a 'global UN session' for 'Disaster Risks Reduction'.
The news flash soon caught the fancy of readers across the social media where the news was shared by various media houses with many acclaiming the development and expressing a sense of collective pride and happiness for such a story of achievement from the Northeast.
Another story that garnered equal widespread attention and praise was that of a 12th standard boy from Lumding, Assam, Tanmoy Chakraborty, who was believed to be invited by 'NASA' to be part of a 'Young Scientist Competition' because of his 'invention' that supposedly detected 'earthquake 48-72 hour in advance'.
However, both stories were deemed fake within hours of them going viral.
The stories now appear to be fraudulent devoid of any authentication.
Also read: Northeast: WhatsApp unveils 'Checkpoint Tipline' to check fake news
Manipur's media house, Imphal Free Press (IFP), smelled something dubious in the Manipur's 7-year-old's story. Investigation by the media house revealed the whole account to be a sham and a fully made-up 'story' and a nefarious work of a con man called Kangujam Kanarjit.
Kangujam Kanarjit aka Dr KK Singh was arrested in 2015 in Manipur with charges of criminal case number 176 of 2015 under Section 420 (Fraud), 324 (Assault) and 406 (Criminal breach of trust), as reported by IFP.
Kanarjit, who allegedly cheated people of as high as 19 lakhs rupees apart from a range of fraudulent activities, still has several cases pending against him in Manipur.
The story about the 7-year-old Manipur girl, originally, came from a deceptive source – International Youth Committee (IYC) with the internet search result listing Dr KK Singh aka Kangujam Kanarjit as the chairmen of IYC, reports IFP.
Similar development came to the fore in case of the 'Lumding 12th Standard boy' narrative, the authenticity of which has been questioned by one Manabendra Saharia, an Assamese from Guwahati, who works at NASA as a hydrologist.
On a Facebook post, on Wednesday, Saharia exposes several loopholes in the story about the Lumding boy being invited by NASA to be a part of a competition.
Saharia has pointed out, in his post, that "he (Tanmoy Chakraborty) is willfully misrepresenting the certificate that he has sent to media outlets".
Saharia went on to clarify that NASA has an outreach office that distributes several educational materials, for free, including certificates (to be used for achievement awards to children) that 'anyone' can get a print out of from the organization's website.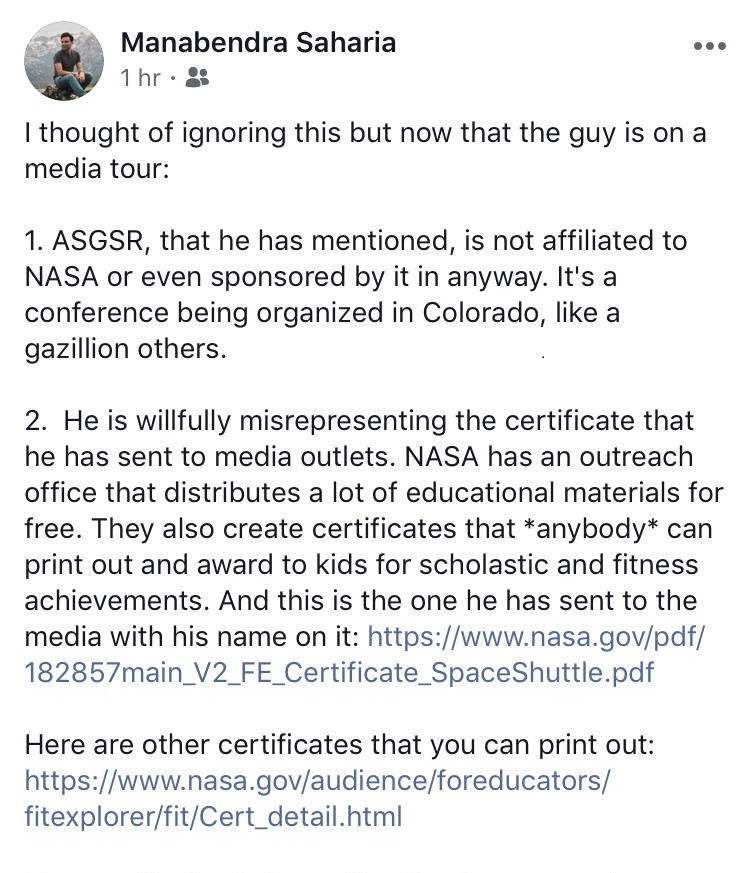 Debunking Chakraborty's lofty claim, Saharia said it is one of these certificates that Chakraborty has used 'with his name on it' to mislead the media houses.
As a consequence of these revelations by both IFP report and the Facebook post by Saharia, all media houses instantly took down the news items on both stories, further confirming the reports to be hoaxes.