Security forces apprehended two persons on charges of smuggling gold at the Rowriah airport in Jorhat of eastern Assam on Friday.
The arrested duo has been identified as Pawan Chouhan and Surendra Singh and both of them hail from Rajasthan.
Fourteen gold biscuits weighing 2.365 kg were recovered from their rectums.
The two were detained on suspicion by CISF personnel on duty at the airport.
Later when intensive checking was conducted, the security personnel managed to recover the gold biscuits.
Later, a Customs department team arrived from Numaligarh to investigate the matter.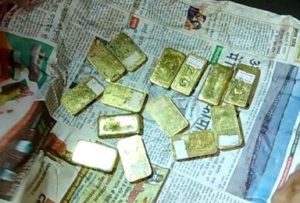 Earlier, in later part of December last year sleuths of the Directorate of Revenue Intelligence (DRI) arrested a top official of IndiGo airlines in Guwahati on charges of facilitating gold smuggling via Lokpriya Gopinath Bordoloi  (LGBI) airport , Guwahati.
The development comes after the DRI officers had busted a gold smuggling syndicate at the airport. The DRI had suspected connivance of airlines staff in facilitating gold smuggling. DRI officials said as part of its operation, two persons were arrested earlier.