As the conch shells and drums are coming out of the cupboard to greet Goddess Durga, idol makers are burning midnight's oil to finish off the orders that they have taken for the various pandals this festive season in Silchar.
Among the various paraphernalia that goes in to the build up to this festival, a breath taking view of Goddess Durga, in each of these pandals, is a major attraction. Keeping this issue in mind, idol makers are pretty busy these days, for they have to work overtime and erect a mesmerizing structure, which everyone can idolize and delve deep into it, believes, noted and award winning idol maker, Shyamal Paul
Shyamal Paul is busy for all of this, these days. Having worked for close to 40 years and a noted idol maker of Silchar, Shyamal Paul with help from his two sons, jumps from one task to the other, in order to cater to the orders that he has taken.
Having seen four decades of Durga Puja being performed here in Silchar, Shyamal Paul gets nostalgic and says, "It really feels great that Durga Puja has come. Just after Mahalaya, my whole godown would slowly fill up with finished products of these idols. Post delivery, the entire thing shall become empty, which makes me sad. I don't even go near my godown for a few days."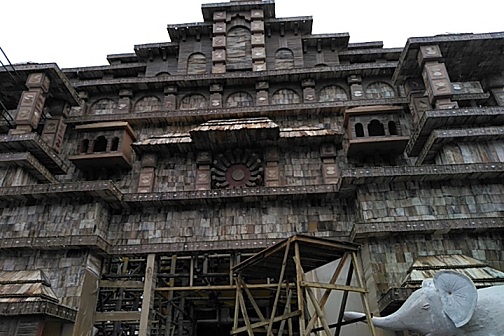 Shyamal Paul's sons, Sudip and Sandip too, are engrossed in their tasks. While Sudip is busy in clay modeling and giving shape to eyes, ears, nose, hands and its like, his other brother, Sandip, is busy giving the finishing touches with the paint and brush.
"Things have changed a lot. Now-a-days, we don't get the required profit of doing this hardship. The prices of all items and goods have sky rocketed in last few years. For running this business we need to take money from lenders during festive season, which is a worrying factor for us," Shyama Paul told Northeast Now.
He added, before leaving for work for his set of idols, "I have learnt making idols from my elder brother, Gouranga Paul, who was even better an award winning idol maker, but passed way a few years back. We don't have any permanent set up of our own, and need to hire places and godown on rent, which escalates our expenses. It would have been better had we got some financial help from the state government to make this idol making industry vibrant. I just hope one day our prayers are answered."