The Tripura state committee of the CPI-M has filed a complaint with the Election Commission of India (ECI) against Assam finance minister Himanta Biswa Sarma for allegedly violating Model Code of Conduct.
In the complaint, Tripura CPI-M secretary Bijan Dhar mentioned that Minister Sarma, who is BJP's in charge of Tripura Assembly polls, was found at Agartala on the day of polling (February 18) at 3.55 pm when the voting was in progress at different poll booths across the State.
"This is a clear violation of the prohibition made by CEO, Tripura. He has been seen 4-Barjala (SC) constituency roaming from BJP poll booth offices during voting hour," Dhar said in his compliant.
The CPI (M) has demanded necessary action against Sarma and has called upon the poll panel to direct the authorities concerned to oust him from Tripura.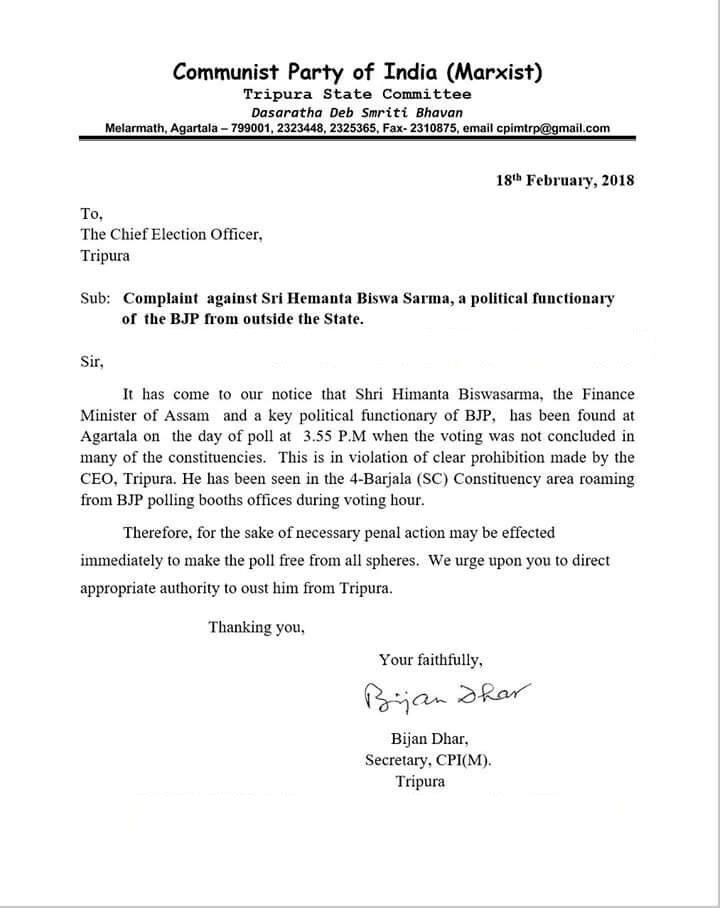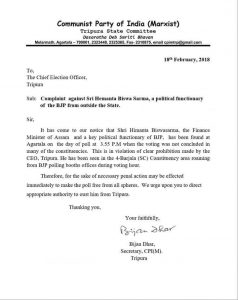 The assembly elections in Tripura, where the Left is trying to win a sixth term against the BJP challenge, saw 78.86 per cent voter turnout on Sunday.
The figure is lower than the 91.82 per cent of the 2013 elections. Voting continued till late in the evening as Electronic Voting machines developing glitches in some areas.
Altogether 292 candidates, including 23 women, were in fray for 59 of the state's 60 seats.
Sarma is BJP's north-east chief strategist and he has been entrusted with the responsibility of ensuring BJP's victory in the upcoming assembly elections in Nagaland, Tripura and Meghalaya with the help of allies.