The CPI (M) has written to election commission seeking the poll panel's intervention in BJP's video campaign that the saffron party has launched in Tripura for the Assembly polls slated for February 18.
CPI (M)'s Tripura State Committee secretary Bijon Dhar in a letter to Chief Election Officer alleged that the BJP as a part of its poll campaign has circulated a CD titled Lal Sarkar containing some objectionable contents that may trigger unrest in the State in the run up to the polls.
He alleged that the video was manufactured by the BJP to tarnish the image of the CPI (M) and the content of the video has nothing related to real harmonious relations prevailing in the state.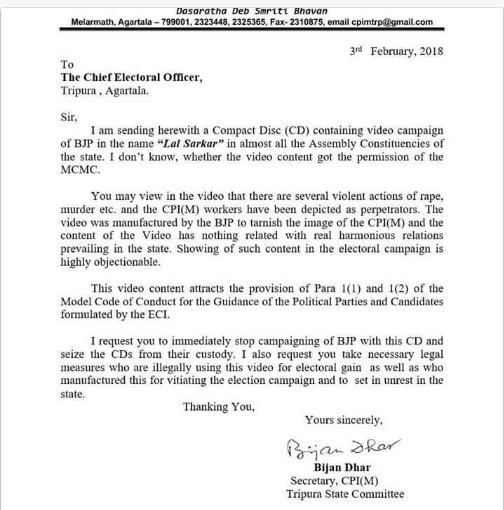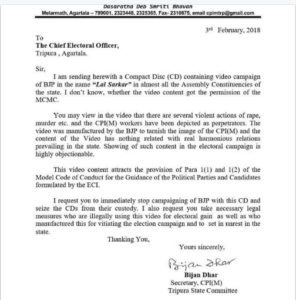 Dhar said that there are several valent actions like rape and murder and the CPI (M) workers have been depicted as perpetrators of such acts.
Requesting the poll panel to immediately seize the CD and stop BJP's video campaign, Dhar said, "The video content attracts the provision of para 1 (1) and para 2 (2) of the model code of conduct for the guidelines of the political parties and candidates formulated by Election Commission of India (ECI)."
"We also request to take necessary legal measures who are illegally using the video for electoral gain," Dhar said.