The two suspected militants, who were arrested by Cachar Police, after being nabbed and beaten up by locals at Harinagar under Cachar district of Assam, succumbed to their injuries on the way to the hospital.
In the morning on Saturday when the whole of Barak Valley had come to a standstill due to a bandh call by more than 100 organizations of the region, two suspected militants were nabbed by locals along with a huge cache of arms and ammunition in Harinagar under Cachar district.
According to information, the two suspected militants, probably not being aware of the bandh call, entered Harinagar market under Joypur Police Station of Lakhipur Sub-division in Cachar district, in the morning on Saturday.
The local residents finding them to be from some other place questioned about their whereabouts. Not finding any convincing replies from the two unknown youths, their suspicion grew.
"The locals doubts compounded further when one of the nozzle of the ammunition protruded out of the sacks that the duo was carrying," informed a resident of Harinagar on condition of anonymity.
He further added, "A hue and cry that ensued post our suspicion, all the villagers rounded the two unknown youths and started beating them black and blue. The police patrol party and other security personnel on duty deputed for maintaining law and order during Barak bandh, rushed to the spot and arrested both of them."
Cachar Superintendent of Police (SP) Rakesh Roshan and Udharbond MLA Mihir Kanti Shome reached the spot to pacify the crowd and bring the situation under control.
However, the two suspected militants, who were severely injured, died on the way to the Silchar Medical College & Hospital.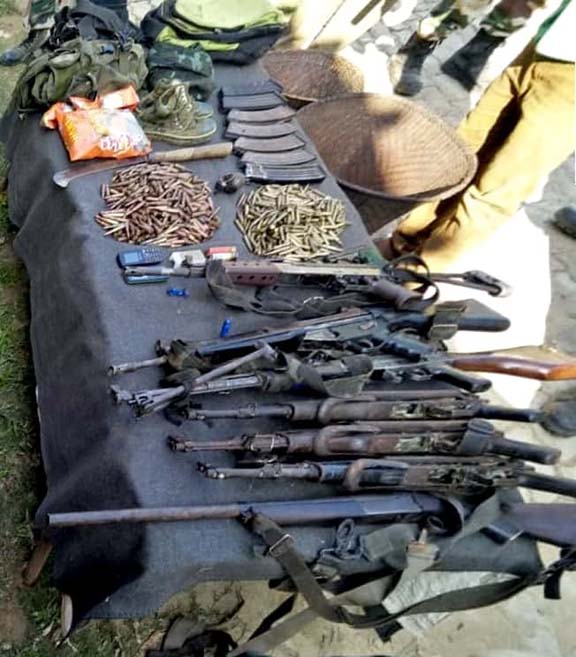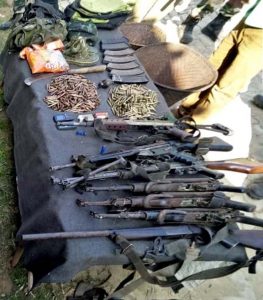 "Unfortunately both the people succumbed to the injuries. After inquest, post-mortem examination will be done tomorrow. However, their identity is not confirmed yet," informed Deputy Commissioner of Cachar, Dr S Lakhsmanan.
Earlier, talking to media persons, Cachar SP Roshan said: "The two persons were badly beaten by the local public of Harinagar after being caught." He also said that they were sent to Joypur Primary Health Centre for medical assistance.
The district police chief also informed that one 12 bore single barrel rifle, three AK 56 rifles, one Chinese LMG rifle, two 56 mm rifles, one .22 mm pistol and live cartridges numbering more than 700 along with one Chinese hand grenade were seized from their possession.
Meanwhile, search operation has been intensified in the area for further trace of the routes used by the militants or more such conduits waiting in arms to cross over.