Based on specific information from the Army Intelligence, the Army and Baksa Police launched a joint operation on Monday and were able to apprehend a suspected arms dealer at Khundigarh in Goreswar area of Baksa district.
The suspected arms dealer has been identified by police as 32-year-old Sabirul Ali alias Bhagin.
Ali is a resident of Khundigarh village under Tamulpur Police Station in Baksa district.
Police claim that the apprehended individual has been involved in arms dealing, weapon supply and in numerous illicit activities like extortion, highway dacoity, loot and other nefarious activities.
The joint team of the Army and Baksa Police was also able to recover one factory-made 7.65mm pistol along with one magazine.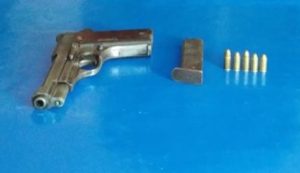 Five 7.65 mm live rounds were also recovered from the possession of the suspected arms dealer.
He was handed over to Goreswar Police Station.
It has been claimed that the apprehension of Sabirul Ali has prevented further nefarious activities in the area and has immensely gained the confidence of the local populace.
In November 2014, one Ganesh Chhetri, who was a member of a militant outfit called the United Gorkha People's Organisation (UGPO), was arrested by police while carrying firearms and ammunition to West Bengal for "a Gorkha political leader of Darjeeling".
Chhetri hailed from Baksa.
Chhetri was arrested along with another person after a search of their Tata Safari yielded an M16 rifle, two Baretta pistols, three .32 bore pistols, 300 rounds of 9mm ammunition, 80 rounds of ammunition of AK-series rifles, 198 rounds of M16 ammunition and 60 rounds of .32 ammunition.