Assam Governor Prof Jagdish Mukhi on Tuesday said that sport is not only about competing but it is also a medium to develop physical and mental abilities.
The Governor also said one cannot rule out the importance of sports in an individual's holistic growth.
Prof Mukhi said this while attending the closing ceremony of 22nd Junior National Sepak Takraw Championship at R G Barua Complex of Nehru Stadium in Guwahati on Tuesday.
"Sports encourage peaceful coexistence and create a conducive environment for global peace and universal brotherhood. Sporting competitions and global sports extravaganzas promote harmonious relations among the participating teams and bring them closer through increased people to people contact and cultural exchanges," he said.
Prof Mukhi also harped on the State's eagerness to strive hard to empower the youth through initiatives that would go a long way in bringing visible positive changes.
He added that top priority has been given to sports and a target is set to make Guwahati the sports capital of India.
He also said that efforts are on to identify sporting talents from rural areas and nurture them to achieve success at the national and international level.
Emphasis is laid to develop world class sports infrastructure in the State, he further said.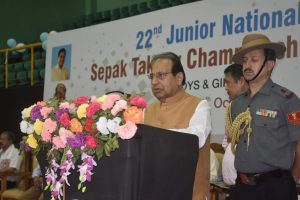 Congratulating the participants and the winners, the Governor said that such kind of tournament is an opportunity to showcase their sporting acumen and get noticed at the international level.
The Governor also said that though it is a newly introduced sporting event, the national federation and the state bodies have been working in tandem to make this sport more popular among the coming generation.
Principal Secretary Hemanta Narzary, Secretary General Yogender Singh Dahiya, Director Sports and Youth Welfare Pabitra Ram Khound, vice president Ramesh Thousen, International Footballer Gilberton Sangma, general secretary of Assam Sepak Takraw Association Bishnu Ram Nunisa along with a host of other dignitaries were also present in the closing function.