Students of Sikkim University have staged a pen-down protest with their demand for early completion of the university campus on Thursday.
The 'Mission Campus' pen-down protest led by Sikkim University Student's Association [SUSA] had the participation of SUSA executive members and students from all 32 departments of the university.
SUSA president Lalit Pokhrel Sharma mentioned that Sikkim University still does not have its proper campus even after eleven years of its establishment.
He expressed that the absence of proper campus has led to no proper interaction between the students and no good hostel facilities to students and other issues.
He further added that there were no proper reference books in the university library and no proper and required teaching and non-teaching staff ratio in the university.
"The main aim of the pen-down protest is to ensure that our future generations should not suffer like us," he expressed.
Pokhrel mentioned that the campus was still under construction at Yangang in South Sikkim for past many years.
SUSA also urged political parties not to intervene in the university's matter as it was a solely student's movement.
SUSA general secretary, Sonam Dorjee Bhutia stated that political parties in the State have now been trying to make this issue a political agenda.
While strongly condemning the act of political parties, he clarified that students do not want any help from any political party.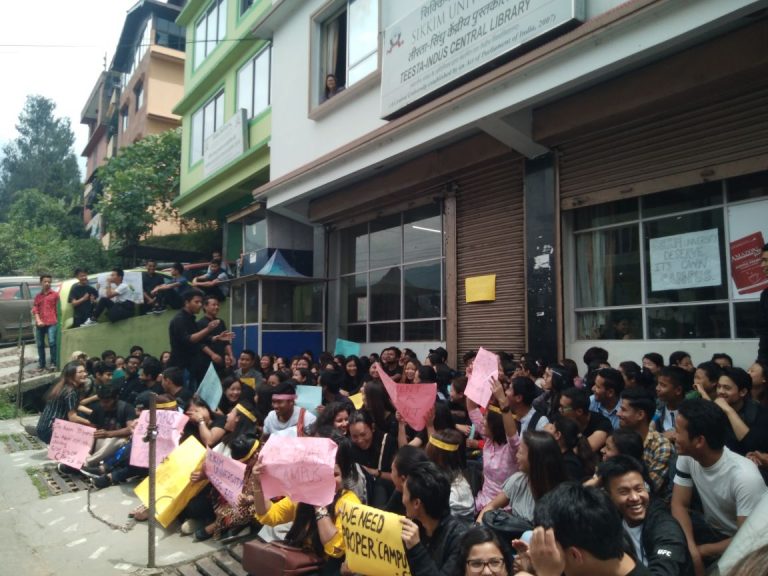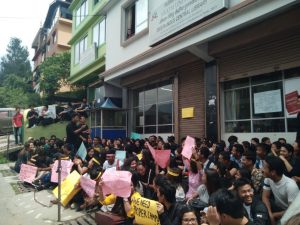 "We would also like to make it clear that SUSA is not against the university. Our sole concern is 'Mission Campus' for the benefit of our future students. We will not wait for another 10-15 years," he said.
Likewise, SUSA academic secretary, Dawa Sherpa said, "We demand a written statement from the university authorities and also the budget of the campus construction. Classes have been suspended in the university today and on Friday as well."
He informed that students will conduct an indefinite strike at the Administrative Block and classes will also be suspended until the written statement from the university authority is not received.