Governor of Sikkim Ganga Prasad on Saturday has adopted Navey Shotak GPU under Kabi-Tingda BAC. The adoption programme held at the Government Secondary School Penlong and was chaired by the Governor which was attended by the Minister for Rural Management & Development Department, SB Subedi, Area MLA Ugen Nedup and senior government officials, local panchayats, local gentries and students from surrounding schools.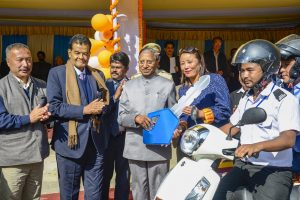 Governor presented a scooty to the panchayat president, Tashi Doma as a token of the adoption of the GPU. The two wheeler was presented to facilitate the progress of the GPU.
The panchayat president of Navey Shotak GPU-Tashi Doma, while welcoming the Governor said that it is a matter of great satisfaction and happiness that the GPU is being adopted by the Governor and stated that this initiative would further accelerate the headways that the GPU is creating.
The Governor expressed happiness at this opportunity of interaction with the people of the GPU. He verbalized his pleasure on adopting the Navey Shotak GPU and mentioned that the evolvement of all the villages falling under the GPU would be taken up on a pilot basis. He reflected on the philosophy of Mahatma Gandhi that the real India lives in the villages and stated that the life and struggle of rural India resonates with him as he also has his roots in rural India.
He went on to inform that all initiatives and necessary collaborations for the progress of the GPU would be overseen by him from his level of authority. He solicited the active participation and support of the people of the GPU for the success of this venture.