Sikkim Chief Minister Pawan Chamling on Thursday unveiled 'Chenrezig Shingkham Riwo Potala' at Sanghachoeling Monastery in Pelling under West Sikkim and dedicated it to the people of Sikkim and the world.
The statue was consecrated by Kyabje Dodrupchen Rimpoche, Gonja Rimpoche and Lachung Rimpoche on Wednesday.
The statue of Chenrezig is over 135 feet tall and has been built at a cost of Rs 69.99 crore. This magnificent project has also included reception block, skywalk, interpretation courtyard and water serpent body including ample space for shopping complex and a cafeteria.
In his address, CM Chamling stated that Sikkim has become a 'Cheosam' (altar) completed with the statues of Lord Buddha at Tathagata Tsal in Rabongla, Guru Padmasambhava at Samdruptse and Chenrezig at Sanghachoeling. He urged that the people of Sikkim to take ownership and responsibility to protect and maintain these holy places.
He mentioned that the State Government has been working for the development of the State since inception and such infrastructures would not only for devotees but will further promote pilgrimage tourism in the State.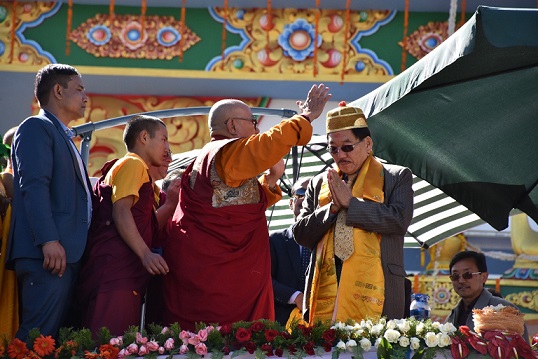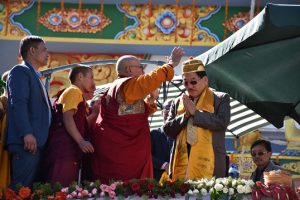 Chamling also expressed his gratitude to all the religious heads for their guidance and for the efforts of the Minsters, heads of departments and the people of Sikkim for making this project into reality. He mentioned that the second phase of the construction of the project would soon take shape after the Budget sessions of 2019.
The CM expressed that sanctity of Sikkim has increased with the completion of the Chenrezig Shingkham Riwo Potala.
He stated people need to conserve and protect their heritage for the coming generations. Chamling mentioned that his Government has been working its best for the betterment of the monastic schools through increasing the number of Monastic schools, number of teachers, inclusion of Bhutia, Lepcha and Limboo languages even at university levels and other similar initiatives. He further mentioned that all religions have been given priority and that the state has achieved to be a religious harmony state in the country.
Earlier, CM Chamling also laid the foundation stone for construction of a Passenger Ropeway from Pelling to Sanghachoeling in West Sikkim.