A Supreme Court lawyer on Thursday lodged a complaint with National Commission for Protection of Child Rights (NCPCR) against popular singer Angarag Papon Mahanta after a video showing the singer 'inappropriately kissing' a minor girl went viral on social media.
The leaked video shows singer Papon first applying colours on the face of a minor girl and then kissed her.
According to sources the minor is a contestant of The Voice of India Kids Season 2, a Hindi singing reality show aired on & TV, of which the 41-year-old singer is jury member.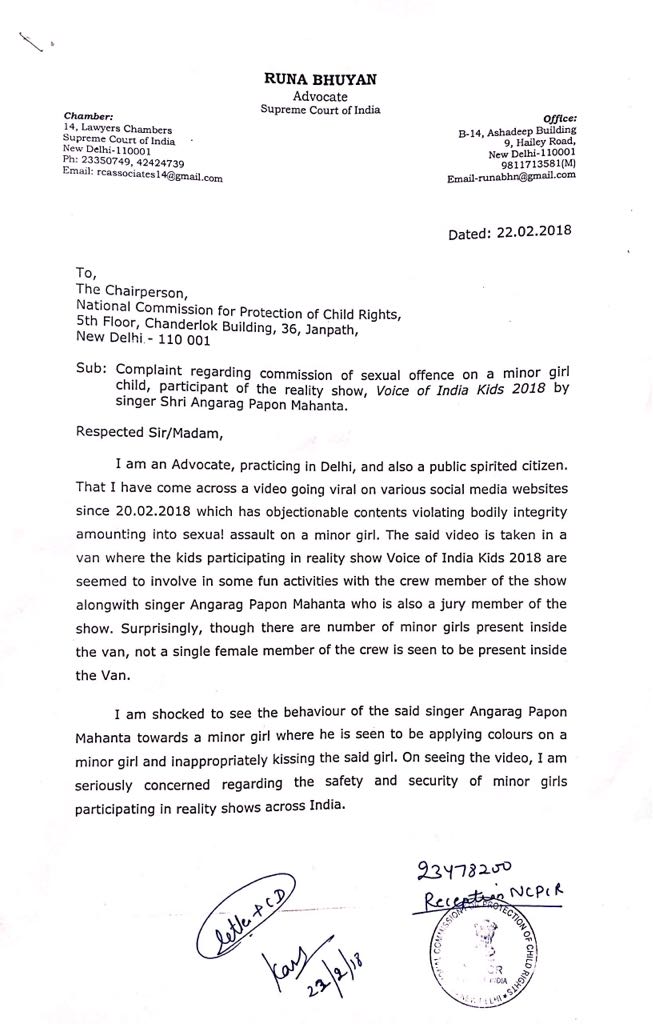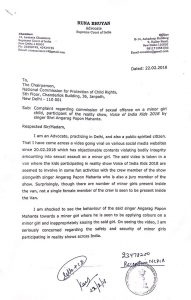 Apex Court lawyer Runa Bhuyan in her complaint to NCPR said, "I have come across a video going viral on social media websites since 20.02.2018 which has objectionable contents violating bodily integrity amounting into sexual assault on a minor girl."
"The said video is taken in a van where the kids participating in reality show Voice of India Kids Season 2 are seemed to involve in some fun activity with the crew members of the show along with singer Angarag Papon Mahanta who is also a jury member of the show. Surprisingly, though there are number of minor girls present inside the van, not a single member of the crew is seen to be present inside the van," said the top court lawyer.
"I am shocked to see the behaviour of the said singer Angarag Papon Mahanta towards a minor girl where he is seen to be applying colours on a minor girl and inappropriately kissing the said girl. On seeing the video, I am seriously concerned regarding the safety and security of minor girls participating in reality shows across India," she added.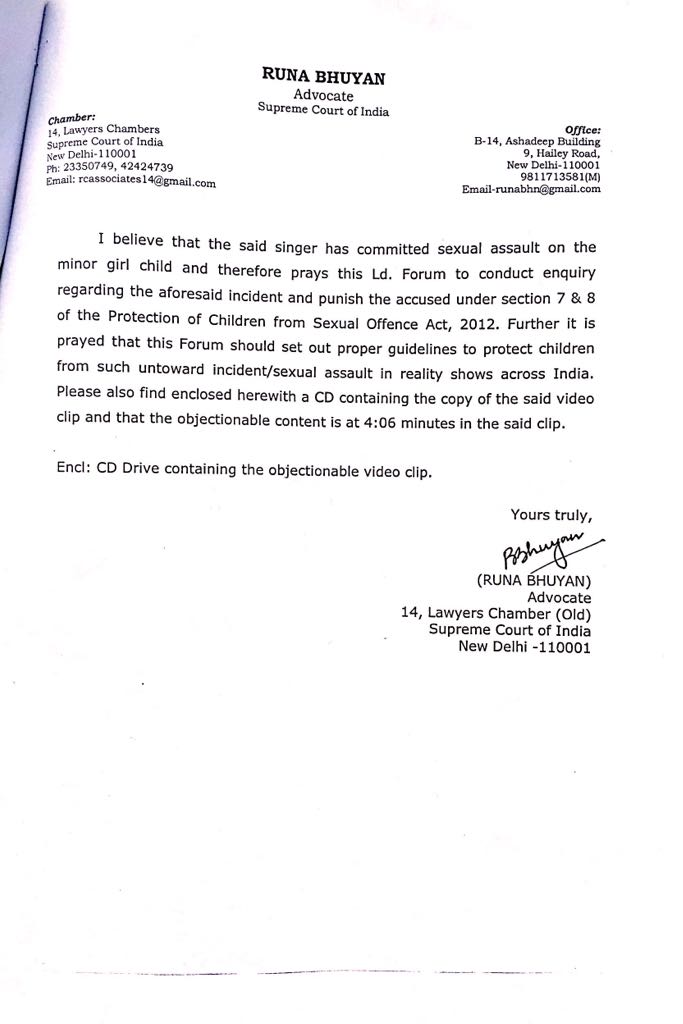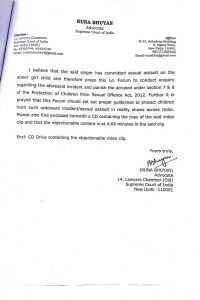 Papon's act also provoked a flurry of criticism on social media. Many social media users have lashed out at the singer and condemned his act.
"In my eyes whatever you have done with the girl was not appropriate Papon. Whether deliberately or not as a responsible citizen you must take/draw a line. There's something call violation of child rights. She is a minor, a child. And there's something called a good touch or bad touch. You cannot take it for granted," promising Assamese filmmaker Reema Borah writes on Facebook.
"After watching the video I was unable to control my anger but was refraining myself from reacting immediately…" she further writes.
"Regardless of affection or no affection, I request people to refrain from kissing or pulling cheeks of children (especially those which are not your own).  You should understand that just because children cannot express their emotions, one should not take full advantage of it. In fact, girl children do not like to be touched. If you were to do the same to an adult, an FIR would've come your way. So please hold your love and affection, which can very well be expressed without laying your hands and mouth on girl children," child rights activist Miguel Das Queah posted on Facebook.
He later told Northeast Now that he is presently studying the incident and id situation demands, he will file a case against the singer.
"People are messed up. They do not understand how fiercely we need to protect these children in the workplace and at home or just don't care. This is wrong and no matter who does it, he needs to be held accountable. This is not the way," writes Khushboo Agarwal.
"I wonder how people are defending this act of his. Totally unacceptable behaviour," comments Tahin Ojah Sharma.
Chinmoy Gayan  comments, "Simply disgusting. And this clip made me think about the future of the children… No one is safe anywhere these days. May be some people say I am overreacting but this is the true,"
Meanwhile, the fan club of Papon called Paponist filed an FIR against 40 people at Dispur police station for allegedly defaming the artiste.