All India Congress Committee (AICC) president Rahul Gandhi and Assam finance minister Himanta Biswa Sarma are engaged in a war of words on the social media platform, Twitter, over the contentious Citizenship (Amendment) Bill, 2016.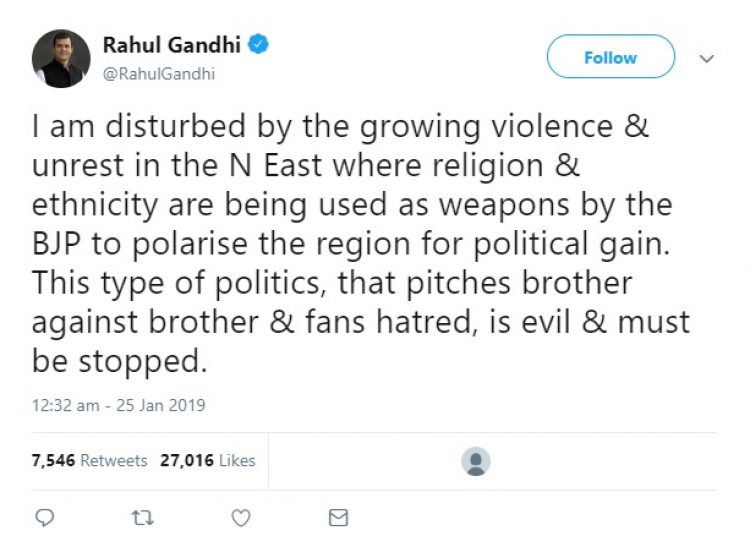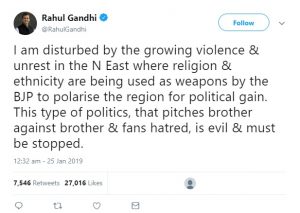 Gandhi took to Twitter alleging the saffron party is trying to 'polarize' the Northeast for electoral gains and triggering 'unrest'.
In a tweet on Friday, Rahul wrote: 'I am disturbed by the growing violence & unrest in the N East where religion & ethnicity are being used as weapons by the BJP to polarise the region for political gain. This type of politics, that pitches brother against brother & fans hatred, is evil & must be stopped.'
Hitting back at the AICC president, Himanta who has been always vocal in support of the citizenship bill wrote:
'Dear Rahul Gandhi, Perplexed by your anxiety. Are you aware how Congress has strangulated NE for decades? Don't give value judgements. We're talking to people to address genuine concerns. Some fake protestors, with bare or no support, are withering away. Rest assured, NE is safe!'
Himanta during his recent addresses at party gatherings had equivocally supported the contentious bill saying the bill can only save Assam from becoming a second Kashmir.
Himanta has also been advocating enforcing the Assam Accord's Clause VI and Scheduled Tribe status to six communities, the other two issues that had also evoked mixed reactions across Assam.
Meanwhile, protests continue to rock Assam and the entire Northeast even as the Republic Day celebrations were boycotted in the region in almost all the states.