A team of members of the Parliament, both from Lok Sabha and Rajya Sabha, representing the Parliamentary Standing Committee on Commerce called on Sikkim Chief Minister Pawan Chamling at his official residence in Mintogang of Gangtok on Tuesday evening.
The team led by MP Naresh Gujral, the chairperson of the Committee, and has nine other MPs – Dr Farooq Abdullah, Jitendra Chaudhury, Dr Haribabu Kambhampati, Roopa Ganguly, Ram Kumar Kashyap, Rakesh Sinha, K R P Prabakaran, Dipsinh Rathod and Khan Saumitra.
The MPs were accompanied by officials from the Parliamentary Secretariat. The committee members are on a study tour to the State to understand in detail about export of organic products, and the challenges and opportunities associated with it.
Lok Sabha MP from Sikkim P D Rai was also present in the meeting, along with secretary and officials of the Agriculture Department.
It was a courtesy meeting of the members of the committee with the Chief Minister where they shared about their experiences and observations from their brief visit and the discussions held in the committee meeting earlier in the day.
The chairperson of the committee, MP Naresh Gujral lauded the State's initiatives in agriculture and the economic uplift of the farmers.
Sharing about his interaction with some farmers, he said that they are earning upto Rs 80,000 from a single crop. He stated that the Government of India is investing on food parks in most of the States and granting huge subsidies.
He suggested that Sikkim too could partner with local entrepreneur and establish food parks. He also suggested for setting up of a Central University for Agriculture and Floriculture which can become a model for other States to follow. He added that it could give a boost to tourism and will also help in employing large number of people. Several other issues were discussed during the meeting.
Dr Farooq Abdullah stated that the State should enhance its air connectivity and one or two more airlines should start service to and from Pakyong airport. He also shared his opinions on the organic products of Sikkim and their potential in the larger market. He said that he was highly impressed with the overall development in the State.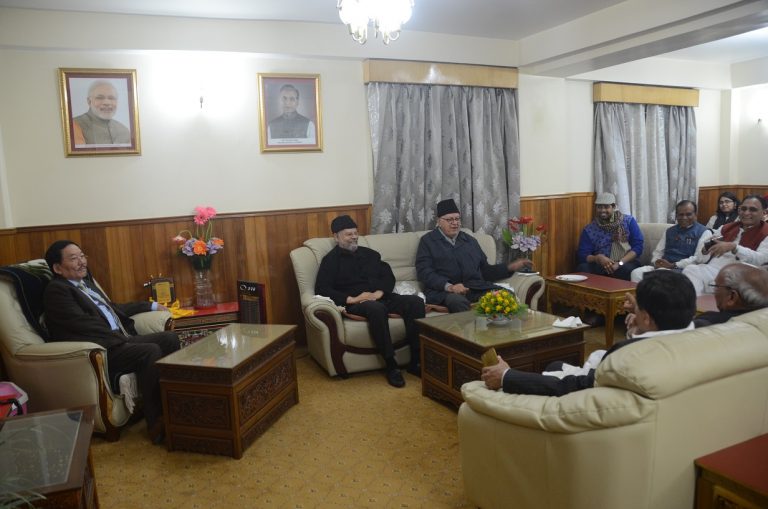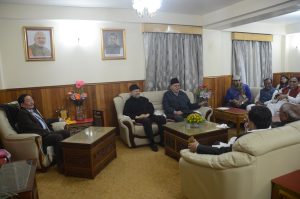 Chief Minister Pawan Chamling thanked the MPs for visiting the State and observing the overall development taking place. He shared some information about the indigenous orchids of Sikkim and other organic produce of the State.
He also shared that the State is generating substantial revenue from clean energy such as hydroelectricity projects in the State. He also highlighted some of the unique initiatives taken by the State to improve the socio-economic condition of the people.
The Chief Minister suggested that the Central Government should start a subsidy for organic fertilizers along with the subsidy given for chemical fertilizers, and give the people the freedom to choose from either. The Central Government should consider this as a policy decision, he added.