The Department of Information and Public Relations (I&PR), Bodoland Territorial Council (BTC) distributed public address systems and TV sets to the high schools and registered clubs under Chief's Swdwb Swrang Scheme through a ceremonial function held at Saraibil Block Bodoland People's Front (BPF) office at Gossaigaon town in Kokrajhar district.
The Executive Member (EM) of I&PR and Social Welfare Department, BTC Mritunjay Narzary ceremonially distributed the public address systems and TV sets to six high schools and five registered clubs.
In his speech, Narzary said the department of I&PR started the distribution of public address systems and TV sets ceremonially to the high schools and registered clubs at Gossaigaon under Chief's Swdwb Swrang Scheme for their benefits.
He said the department started the scheme since 2015 and has been distributing among the beneficiaries in four BTC districts.
"There are numbers of clubs who are promoting different activities mainly sports which need TV sets for recreation", he said adding that the schools also needed public address systems for their annual school week and other functions.
He also said 100 numbers of TV sets and 50 numbers of public address systems would be distributed to high schools and registered clubs in BTC area this year.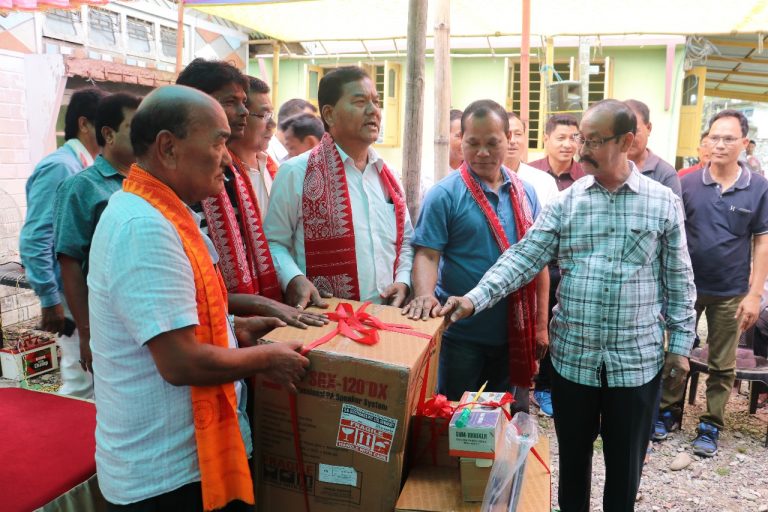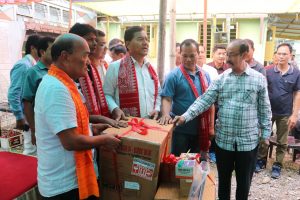 He called upon all to properly use the assets.
Earlier, the Council Head of the Department (CHD), BTC Ansumwi Mohilary gave the key note address.
He elaborated regarding the introduction of Chief's Swdwb Swrang scheme by the department and it's importance.
The distribution function was also addressed by legislator Majen Narzary, ex-MLA Hemendra Nath Brahma and was attended by BTC MCLA Abdul Khaleque Mondal, ex MCLAs Rahindra Brahma and Abjal Hoque Sarkar, president of Saraibil Block of BPF, Billa Kr Brahma, Assistant Commissioner of Gossaigaon Civil Sub Division Amit Parbosa, president of Gossaigaon district Women Wing of BPF Hirabai Narzary and others.
Photos : BTC EM of I&PR department Mritunjay Narzary handing over the mike sets to the beneficiary at Gossaigaon on Tuesday.