Following news reports of former Chief Minister and NPF leader
TR Zeliang
being summoned under Section 160 CrPC by the National Investigation Agency (NIA), asking him to appear at its HQ, CGO Complex, New Delhi on 
March 13
 at 10 am which appeared in some section of the media, the NPF Legislature Party smelled "political motivation" behind it and alleged that "vendetta surrounding the case cannot be ruled out".
The clarification, issued by the Press Secretary to the Leader, NPF Legislature Party, stated, "The notice was served through Fax no 0370-2244042 belonging to the Chief Minister's Office, 15 minutes past 
midnight
 on March 12, after which a second letter was again served through the same Fax no at 
10:05 am
 the same day, the content of which was similar to the first," adding, "Both copies received by Zeliang from the Chief Minister's Office".
Earlier, on February 15 and 16, just before the State Assembly elections,
NIA
had summoned for questioning three officials to Guwahati which included the OSD, Media Officer and Public Relations Officer to the then Chief Minister, TR Zeliang.
In the clarification, the Press Secretary to the NPF Legislature Party also stated, "On 1st March, just before the election results were announced, an officer of Zeliang was again summoned and interrogated for 5 days, from 3rd March to 7th March at its HQ, New Delhi."
Stating that the latest summoning of the former Chief Minister himself comes at a time when the State Assembly is slated to hold its session from 
March 13 to March 26, the clarification stated, "
In this regard, Zeliang has written to the NIA expressing his inability to appear at such a short notice and also because of the Assembly Session where he is required to attend as the Leader of Opposition."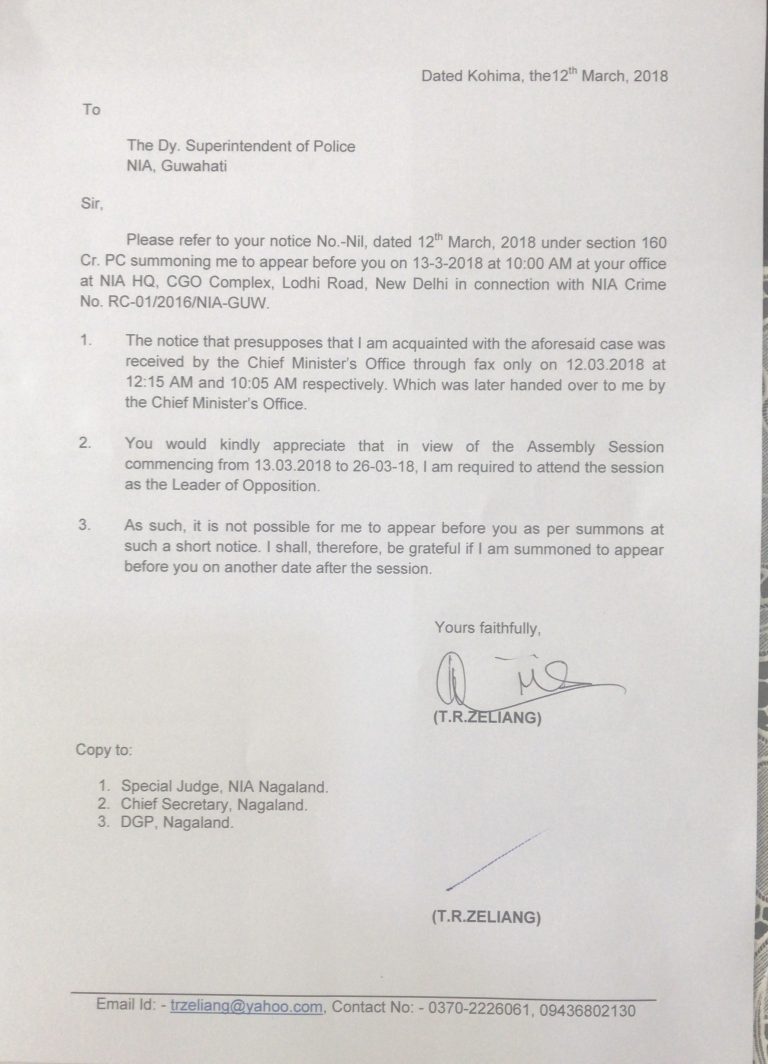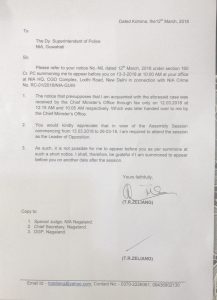 In the letter to the NIA, Zeliang has requested the investigating agency for deferment of appearance.
"NIA has been investigating extortion cases in Nagaland since August 2016 and Zeliang, as a law abiding citizen of the country, is ready to co-operate with any investigating agency including the NIA. But however, what remains true is the fact that the then Chief Minister's Office under Zeliang has nothing to do with funding banned organizations," it claimed.
It further added that "The timing of the summons, despite the co-operation rendered from day one, is conspicuously odd and political motivation and vendetta surrounding the case cannot be ruled out."
Through the summon, Zeliang has been asked to appear before it in Delhi on March 13 in connection with a probe related to alleged 'tax collection' and 'extortion' from State government departments by banned Naga insurgent groups.