The sixth round of talks on the Kuki political issue among the Central Government, Government of Manipur, United People's Front (UPF) and Kuki National Organization (KNO) was held in New Delhi on Wednesday.
The meeting chaired by the newly appointed interlocutor for the peace talks, former special secretary of the Research and Analysis Wing (RAW), A B Mathur discussed at length the demand for territorial council tabled by the UPF and KNO.
Earlier, the outgoing interlocutor of the peace negotiation, former Intelligence Bureau (IB) director, Dineshwar Sharma was given a ceremonial send-off.
During the negotiation, a draft outline of the political demand for formation of territorial council in Manipur signed by UPF spokesperson, Aaron Kipgen and KNO negotiator Dr Seilen Haokip was submitted to the Central Government while keeping the demand for statehood in abeyance.
Six delegates from UPF and seven members from KNO represented the two umbrella organizations in the peace negotiation.
UPF Political Wing Convener, Aaron Kipgen stated the peace negotiation is progressing in the right direction and several crucial issues were discussed to provide constitutional safeguard for the Kukis in Manipur since the beginning of the first political dialogue on June 15, 2016.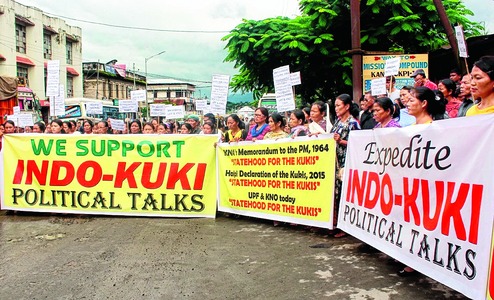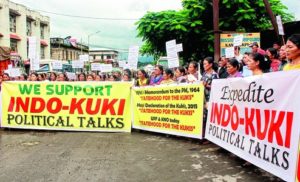 "UPF and KNO are committed to resolve the age-old political issue with the Government of India and Government of Manipur for peaceful co-existence with all the communities in Manipur,", asserted Kipgen.
One of the key delegates from KNO, Dr Seilen Haokip said the historical symbiotic and cordial relations between valley people and the Kukis, which was based on self-determination of each community and respect for each other's identity and territory, will be renewed and strengthened by the territorial council for the Kuki people.
Earlier on Tuesday, delegates UPF and KNO had a consultation meeting prior to the sixth round of political talks at the national capital and discussed on various crucial issues.