In order ensure discipline and maintain a clean, hygienic ambience in all corners of the headquarters of the ruling National Democratic Progressive Party (NDPP), the party has issued an advisory.
According to the advisory, the entire area of the NDPP head office at Chumukedima in Nagaland's Dimapur, has been declared a 'No Tobacco Zone' with immediate effect.
Smoking has also been strictly prohibited in the entire complex.
Chewing pan, taking gutkha, pan masala and all forms of tobacco in any form and spitting on the sidewalks, toilets, wash basins or within the NDPP head office complex have been strictly prohibited.
"Use of one-time plastic is also to be discouraged in line with the State government's announcement of plastic free Nagaland," the advisory said.
All members of the NDPP have been asked to abide by the advisory.
The advisory, issued by T.L. Merry, general secretary, attached to the president of the NDPP, stated that these are in line with the party's constitution of being a political party which is regional in character, national in outlook and takes up policies and programmes with a global outlook.
"We have to have our own contributions in ensuring that we all play a role towards global and environrnental responsibilities," stated Merry in the advisory.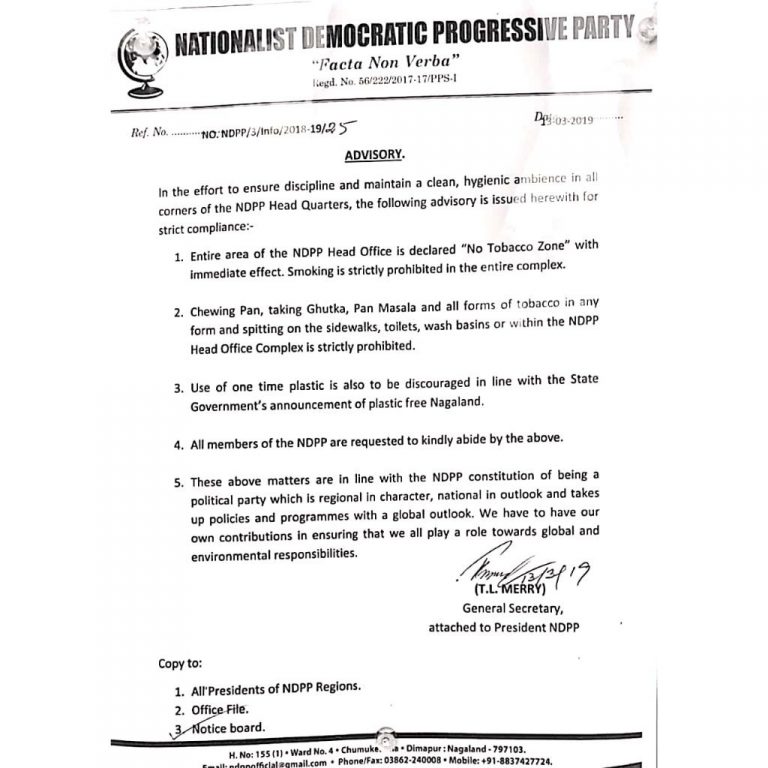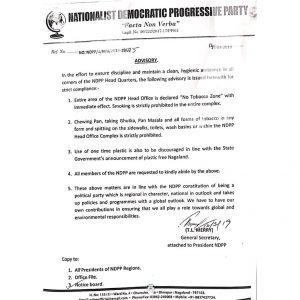 Nationalist Democratic Progressive Party (NDPP), which was formed in October 2017, was earlier known as the Democratic Progressive Party (DPP).
The party was formed by rebels belonging to the Naga People's Front (NPF), who support Neiphiu Rio, the chief minister of Nagaland.
Neiphiu Rio joined the Nationalist Democratic Progressive Party in January 2018 after the NPF broke its ties with the Bharatiya Janata Party (BJP) ahead of the 2018 Nagaland Legislative Assembly polls.
The NDPP, which formed alliance with the BJP, leads the coalition government in Nagaland.