How joyful it used to be to receive a letter from a beloved friend or an earnest well-wisher. Sealed in colourful envelopes, it was sheer bliss to take time to read the letters and then just as excitedly drop a mail, in return, in the letter box.
Now, with the advancement of technology and various options of instant messaging, letter writing has greatly lost its significance. Gone are the letter-boxes, Khadi-clad postmen delivering letters from door to door and the current generation hardly has any idea about what letter-writing is.
Now, at a time when letter-writing is abandoned for good, Aboli Wotsa from Nagaland has tried to revive its memories and demonstrate the charms of a good letter.
Principal of New Life Academy, Dimapur, Wotsa, has won the national level writing competition for the Northeast circle called 'Dhai Akhar' and has been duly congratulated for her achievement at a programme held by the state's postal division on Friday.
Wotsa was felicitated by a cash prize of Rs 25,000 along with a certificate by the superintendent of Posts, Nagaland Division, Lalramzauva.
At the programme, assistant superintendent of Post, E. Yanthan, noted that due to the advancement of communication technology, the art of writing expressive letters have become less and less important and main aim of the campaign was to promote the culture and importance of letter writing amongst younger generation.
 Also read: Germany to provide Rs 50 crore grant for Nagaland's biodiversity conservation
Yanthan congratulated Wotsa and expressed that he was confident that she would continue to write and inspire people across the globe with her writing.
Wotsa won the competition in the above 18 years Envelope category. In a beautifully hand-written 1000-words letter, Wotsa has brought back memories of letter-writing. From Shillong Laxmi Prabha Das and Munna Kumar won the second and third prizes respectively in the category.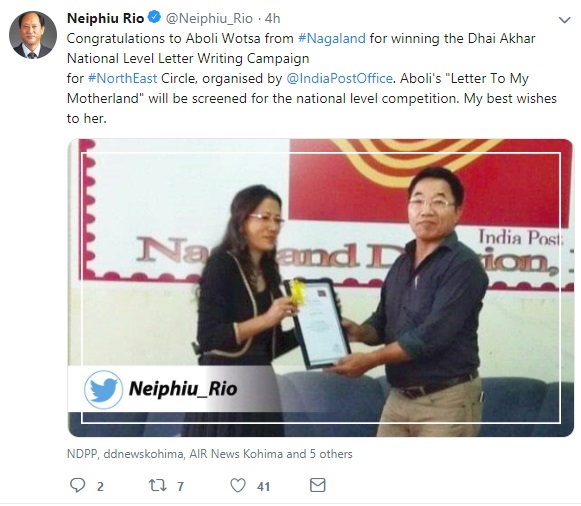 The campaign which was initiated for the very first time in the country by the Department of Posts, government of India aimed at reviving the art of letter-writing with a touching theme– "Letter to My Motherland".
Inspired by Ravindranath Tagore's evocative song "Amar Desher Mati", the idea of the campaign was to encourage everyone across India to connect to their roots and their innate art to write a beautiful hand-written letter.
Wotsa took the opportunity and penned down a moving a letter which earned her accolades from across the Northeast and made her an inspiration to everyone in terms of letter-writing.
Wotsa's letter will now be screened for the national level competition. During her acceptance speech, Wotsa mentioned that she participated in the competition as Rabridranath Tagore is one of her favourite poets.
The Nagaland postal department officials maintained that they would be organizing similar programmes in future and encouraged youngsters to come forward and participate.