Prime Minister Narendra Modi in Nagaland said his government will spend around Rs 1800 crore to transform Kohima into a 'smart city'.
Addressing an election rally at Tuensang in Nagaland on Thursday, connectivity is a huge challenge in Nagaland.
"We are working relentlessly towards eliminating it. In less than four years, we have added 500 km of national highways. We have also planned to invest more than Rs 10,000 crore in the roads of Nagaland," the Prime Minister said in the rally.
Modi began his speech by saying that he can see the picture of 'Ek Bharat Shreshth Bharat' in front of him at Tuensang referring to the massive gathering at the rally.
Modi also said, "My vision for the north-east is transformation by transportation," while adding that the country's development is not possible without the development of the North-east.
Also read; Narendra Modi arriving in Garo Hills later today
Modi also stressed that the funds provided by the Centre should reach the people.
"We would ensure that the funds released for your state reaches you. We will amend the loopholes through technology, which are causing wastage of public money," Modi added.
Referring to the impending solution to the vexed Naga issue, Modi said, 'We have kept the door open for dialogue', adding that his government honours every single 'voice that speaks for the betterment of Nagaland'.
Modi stressed on the need for a stable government in Nagaland for its overall growth.
He further said that organic farming has found a big market globally and the entire north-eastern has immense potential for it.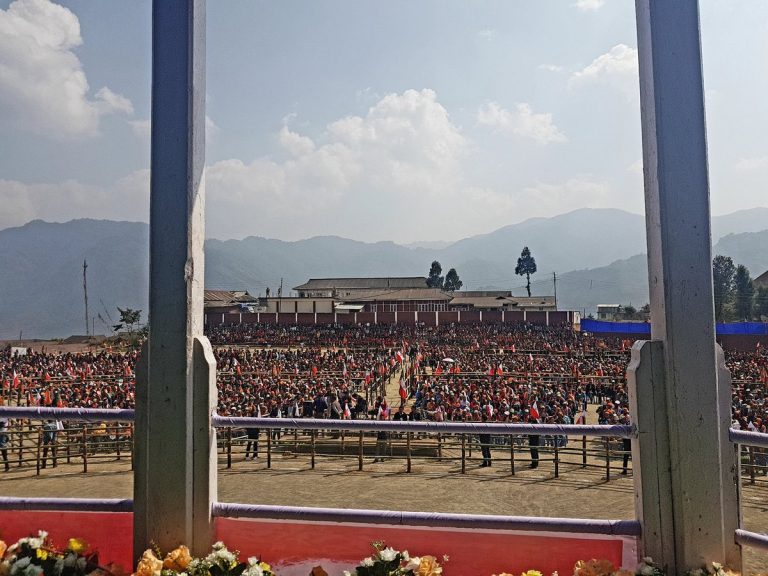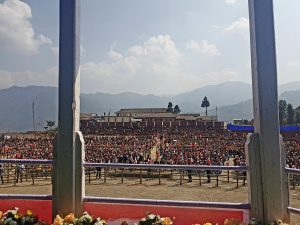 "We are encouraging farmers to shift towards organic farming. This will add to their income," Modi said.
Modi also said the Central Government has approved the construction of 8,500 houses in Nagaland.
Modi further assured that the Centre would extend Rs 160 crore to Nagaland for the purpose while another Rs 400 would be provided under National Health Mission.
The Prime Minister arrived at the venue at around 11:24 am
Modi will then fly to the Garo Hills in Meghalaya to address a mammoth rally at Phulbari at 3 pm as part of his hurricane campaigning for the party ahead of ensuing elections in the two north-eastern states.