A social media post by Mukul Sangma supporters on Sunday said BJP leader Smriti Zubeen Irani was "misinformed" on government's pro-active role in empowering and providing safe and secure environment to women in the state.
Irani had accused Mukul Sangma government of its failure to provide security to women by talking about the alleged sexual assault in an inn owned by home minister's son in Shillong.
"The job of a home minister is to protect women and children but in Meghalaya it is the reverse. It is sad and shocking that in Meghalaya, where women are held in high esteem, such an incident has ashamed the state," Irani had said addressing an election rally at Dalu, about 55 km from Tura on Saturday.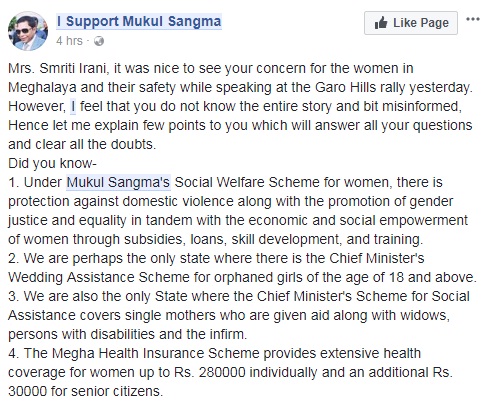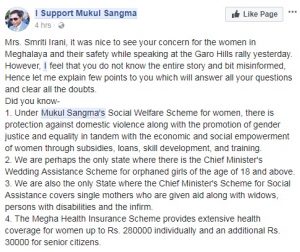 A strong rebuttal in a facebook post – "I support Mukul Sangma", the social media warriors explained that Mukul Sangma started one of the most ambitious programmes titled Social Welfare Scheme for Women, which ensured protection to women against domestic violence along with the promotion of gender justice and equality in tandem with the economic and social empowerment of women through subsidies, loans, skill development and training.
An elaborate post also explained that Meghalaya was the only state in the country, where the chief minister has launched a programme to provide assistance to orphaned girls of the age of 18 and above.
"We are also the only State where the Chief Minister's Scheme for Social Assistance covers single mothers who are given aid along with widows, persons with disabilities and the infirm," the post said.
On Irani's remark that Meghalaya government failed to provide crucial medicines to the poor needy patients, the post said, "The Megha Health Insurance Scheme provides extensive health coverage for women up to Rs. 2.80 lakh individually and an additional Rs. 30000 for senior citizens".
The post also harped on the women economic empowerment through financial inclusion scheme, which ensures greater financial literacy and bank accounts for women.  "There are working women's hostels set up throughout the State to ensure safe and healthy accommodation for women," it concluded.