Meghalaya chief minister Conrad K. Sangma on Wednesday came down heavily on former chief minister and Congress leader Mukul Sangma for introducing different flagship missions which were 'not result-oriented' and had led to huge financial burden on the State.
Chief minister Conrad Sangma said Mukul Sangma had introduced Agar and Bamboo mission in Meghalaya during his tenure as Meghalaya chief minister without any research or creating document which was based on mapping the skills of the farmers.
"He (Mukul Sangma) had introduced several mission in the State which led to financial burden. He was least bothered to executive the mission properly, and the programme failed," said Conrad K. Sangma, addressing several election rallies at Resubelpara in North Garo Hills.
Though he did not wish to spit much venom against senior Congres leader Mukul Sangma but said that public would soon be made aware of his misdeeds and mismanagement of public funds for his own selfish interest.
Conrad Sangma was accompanied by former union minister Agatha K. Sangma, who is contesting the 17th Lok Sabha election from the prestigious Tura parliamentary constituency, which was represented by late Purno Sangma.
Also present during the meeting were deputy speaker Timothy D. Shira, government chief whip Marcuise Marak, and a host of NPP MLAs and members of the district council.
Seeking mandate for Agatha K. Sangma, Conrad Sangma said, "The upcoming Lok Sabha election is very important for the National People's Party. People of Garo Hills including people from different political parties unite to support NPP as they believe that NPP is the only alternative for MP for the Tura seat. I am confident that people of Garo Hills will once again think for Garo Hills and will vote for NPP."
He said that people of Garo Hills are well aware of the role of an MP and has always believed that voice of Garo Hills can only be raised by NPP as late P.A. Sangma had demonstrated this during his tenure as MP.
"Let us come together to vote Agatha Sangma, daughter of late P.A. Sangma, who has stood from this seat," he added.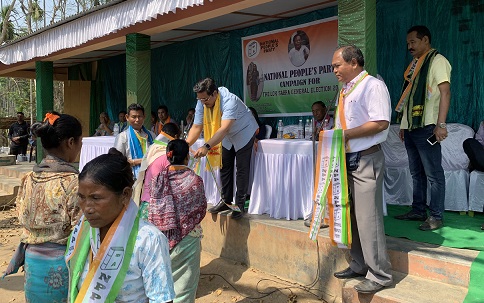 Conrad Sangma told the gathering that as chief minister, he went to meet different leaders in Delhi for seeking development funds for Meghalaya, however, when they learnt that CM Meghalaya had come to meet, they were told to wait but when they came to know that he was son of late P.A. Sangma they straightaway called him.
"In Delhi, nobody is bothered to listen to voice of different political leaders. However, when they know that I was son of late P.A. Sangma I got recognition and importance. I am telling this because tallest politicians of the country respect late Sangma and his contribution for the country," he exhorted.
"If we elect and select an unknown person to represent us in Delhi, it will be a big loss for the people of Garo Hills. However, if Agatha is elected, the politicians irrespective of their affiliation would give her due respect and recognition and would listen to her," said Conrad.