Meghalaya Chief Minister and national president of National People's Party (NPP), Conrad K Sangma on Thursday addressed a public gathering at Abima under Selsella constituency in West Garo Hills of Meghalaya to drum up support for the party in the run-up to the by-election, which is schedule for next year.
Dilliram G Marak, who secured 3296 votes in the last election to Selsella constituency as Independent candidate joined NPP in presence of Conrad K Sangma and other party leaders including working president Semford B Sangma, CEM of GHADC Dipul Marak, Chairman of GHADC Denang T Sangma and NPP candidate for Selsella Constituency Ferlin C A Sangma and a host of other leaders of the party.
Welcoming Dilliram Marak in the party, Conrad described him as a person with genuine interest for the people. He expressed confidence that Marak's entry into NPP will strengthen the party and boost the candidature of Ferlin C A Sangma, who had lost the general election.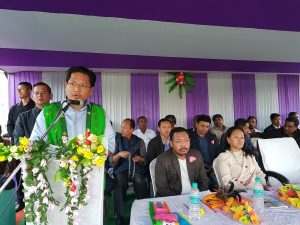 He told the crowd that NPP has been working for inclusive growth and development of Meghalaya. He sought people's support to ensure Ferlin's victory in the upcoming by-election.
"The upcoming by-election is completely different from the general election. NPP and its allies are in the ruling side so there should not be any confusion whom to vote. We are committed for the cause of our people and people of Selsella constituency should also be part of this development journey and partner with NPP," he said.
He told the crowd that NPP has been working tirelessly in the past eight months to ensure accelerated growth and push development across the State. "We have different challenges but with concerted support from the central leadership we have been able to respond to the problems of our people and working to take Meghalaya forward," he added.
Talking on different pro-people initiatives in sectors like health, agriculture and tourism, the Chief Minister said that the government has accorded priority to ensure sustainable livelihood opportunities to improve the socio-economic condition of the people apart from the core thrust of improving infrastructure like education, trade, business and road and communication.