Meghalaya Chief Minister Conrad K. Sangma held a monthly review with Deputy Commissioners and BDOs of all districts and blocks of the State through video conferencing and discussed with them ways forward for effective implementation of all Central schemes.
The Chief Minister sat from Delhi, while DCs and BDOs remained in their respective districts and blocks while interacting through video conferencing.
The meeting reviewed the implementation of MGNREGS, Pradhan Mantri Awaas Yojana (PMAY), National Social Assistance Programme (NSAP) and Swacch Bharat Mission.
"We discussed at length ways for proper implementation of projects which will be to the advantage of the beneficiaries and the people of the State," the Chief Minister said.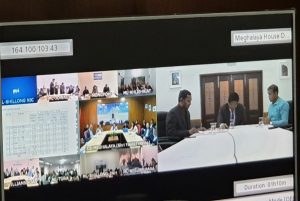 The Chief Minister asked the DCs and BDOs to complete the implementation of the project within the requisite time frame and advised them to set a target for effective completion of projects, particularly those that are being delayed.
He informed that monthly review programme through video conferencing has been very effective as this ensures monitoring and accountability and instill sense of good governance and improves the overall implementation of the projects at the grassroot level.
The initiative by the Chief Minister to hold meeting through video conferencing has enabled the use of technology to the advantage of administration and at the same time brought administration and governance closer to the people.