The former Lok Sabha member from Tura and present MLA of South Tura constituency, Agatha K Sangma, has resigned as member of the Meghalaya Legislative Assembly on Monday.
(Agatha has resigned to pave way for her brother and Chief Minister (CM), Conrad K Sangma, who will have to contest a byelection from the said constituency so that he can continue as the CM).
Confirming this, Meghalaya Assembly's Commissioner and Secretary, Andrew Simons, said that the South Tura legislator handed over her resignation letter to the Deputy Speaker, Timothy D Shira, and the same was sent to the Speaker, Donkupar Roy.
Stating that the Speaker has accepted Agatha's resignation, the Assembly official said that a notification in this regard has also been issued by the Assembly Secretariat.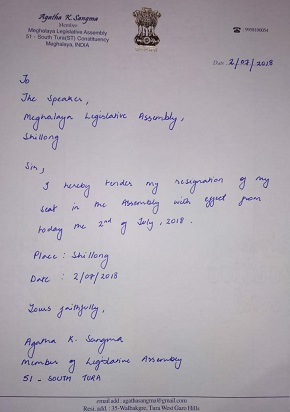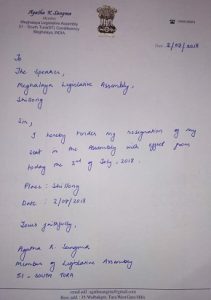 Agatha was elected as member of the Tenth Meghalaya Assembly from the South Tura constituency on a National People's Party (NPP) ticket in the Assembly elections held in February 2018.
Conrad, who took oath as the CM on March 6 this year, is currently the Lok Sabha MP from Tura parliamentary constituency. He is the national president of the National People's Party (NPP) and is leading a six-party coalition – Meghalaya Democratic Alliance (MDA) Government in Meghalaya.
On June 21 last, senior Congress MLA, Martin M Danggo, also resigned as the member of the Assembly from Ranikor constituency. Danggo is joining the NPP and would seek re-election on a NPP ticket when byelection to the Ranikor Assembly seat is conducted.
With the resignation of Agatha and Danggo, the strength of the  60-member Assembly has been reduced to 58 at present. Currently, the ruling NPP has 19 MLAs, while the Opposition Congress has 20 MLAs.