A mass protest rally demanding inclusion of Meetei/Meitei in the list of Scheduled Tribes of India was organized by Scheduled Tribe Demand Committee of Manipur (STDCM) in Imphal on Sunday.
The rally was being organized to protest the State Government's reported inaction to the demands of the committee, said publicity sub-committee of STDCM in a statement which was distributed during the day's rally.
Holding placards which read 'Grant ST status to meitei/meetei', 'We stand for ST status, 'No ST No Vote' etc, the rally which was started from Thangmeiband Athletic Union ground in Imphal West district and passed through the main road of Imphal before finally converging at Hafta Kangjeibung in Imphal East district where a public meeting was also held.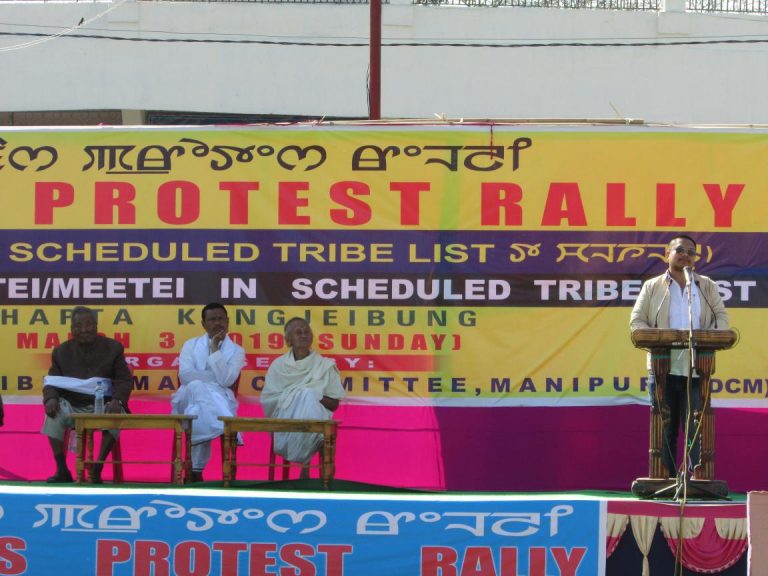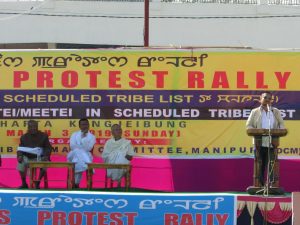 The meeting which was attended by titutlar king Leisemba Sanajaoba of Manipur along with STDCM president Prof Y Muhindro and working president M Naodalenkhomba, adopted three resolutions demanding the state to send its recommendation to Centre by March 6 and it warned to call 36 hours general strike from 6 pm of March 9 if the state failed to send it.
It also resolved to launch campaign against those political parties which failed to support the on-going public movement and start preventing the railway line construction works from March 11 onwards.
The STDCM had been urging the state authority to submit a recommendation to central authority after the Ministry of Tribal Affairs had sought the State Government's recommendation on the demand for inclusion of Meetei/Meitei in the list of Scheduled Tribes five years ago.But the State Government is yet to give its recommendation, it said.
Like other communities, Meiteis need constitutional protection to bring a harmonious society, a rallyist said.
Regarding the opposition by some tribal bodies, the rallyists said that the demand is placed to make all communities live together in the State.