Divers of Indian Navy on Friday recovered bodies of the three people who had gone missing after their boat capsized in the Eco Park Lake in Manipur's Ukhrul district.
N. Biren Singh, Manipur Chief Minister tweeted, "All three missing persons at Maphao Dam have been recovered. May their soul rest in peace in the heavenly abode and I share the grief of the bereaved family."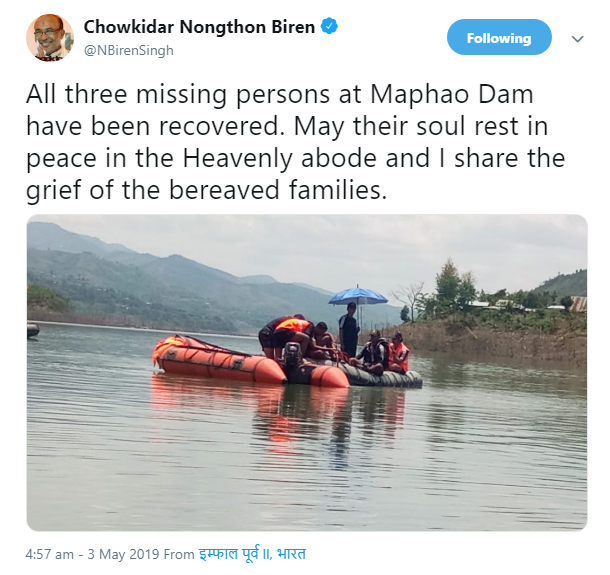 Also Read – Assam: Three missing after boat capsizes in Tinsukia
A 14-member Indian Navy team had arrived in Manipur on Tuesday evening, and had joined the search operations to trace three people, including a girl, who were reported missing after their boat capsized on Sunday.
A total of 12 tourists were travelling on the boat in the Eco Park Lake near the Maphou dam on Sunday when the boat suddenly capsized in the middle of the lake. Rani, Rajiv and Romen, members of the same family went missing in the incident while the others survived.
Initially, teams of NDRF, SDRF and Manipur state fire service initiated the rescue operation.
The Navy team, which comprised of 12 divers and two hydro-graphers, had rushed to Manipur from Visakhapatnam by a special IAF aircraft at the request of the Chief Minister.
Though the Navy team had started the search operation on Wednesday morning, the divers could not do much because of the inclement weather triggered by rain, poor visibility and strong winds.
The officers said they would resume the search on Thursday morning. The bodies were found on Friday evening, state government officials said, adding that all the bodies have been identified.