The Horse, a 60-minute play in Hindi, produced by Wings Theatre, a Guwahati based group, was staged at the Madhabdev International Auditorium in Srimanta Sankardev Kalakshetra here on Tuesday.
Directed, designed and adapted for the stage by Kismat Bano, the theatre prodigy of Assam, The Horse is the story of a teenage girl.
The story of the play revolves around teenage girl Rubina who is fascinated by a foal and subsequently watches it with admiration as it grows into a sturdy young horse.
Much to the dismay of her mother, her father buys the foal at an auction, outbidding their landlord despite them needing a more suitable horse who could carry water for the farm work.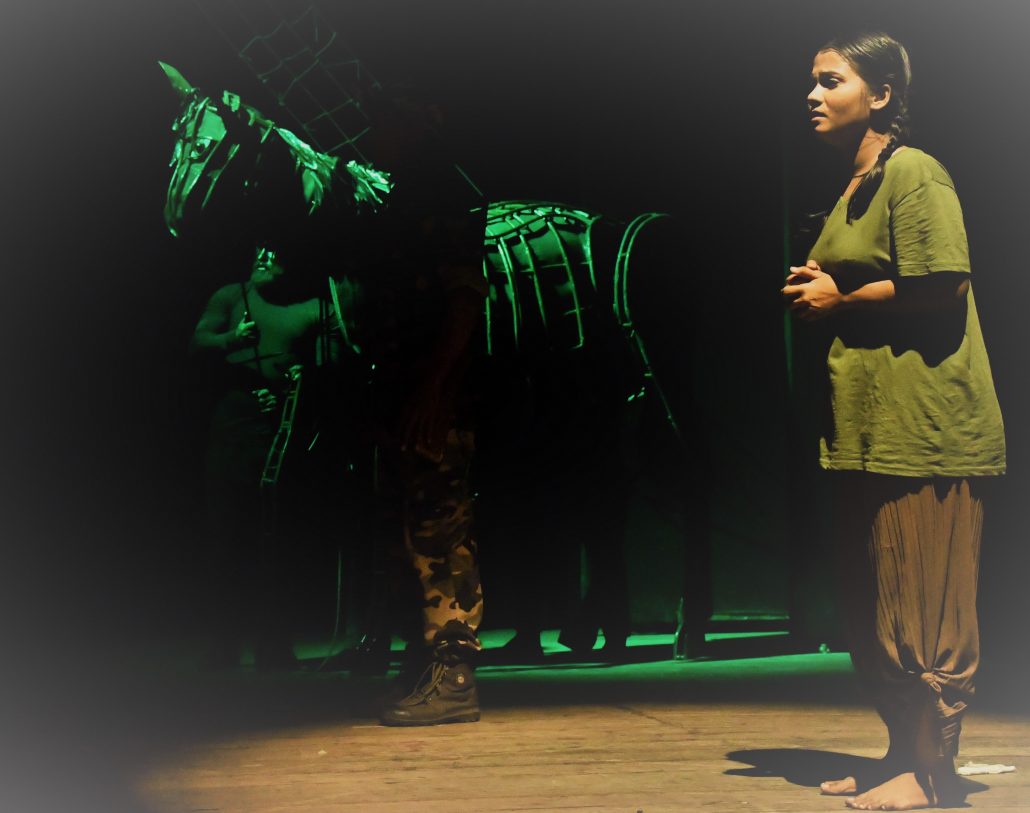 Rubina teaches the foal many tricks, such as to come to her when she imitates the call of an owl by blowing through her cupped hands. She names the horse 'Joey.'
Rubina's father carries a war injury that causes him ongoing physical and mental pain. Rubina manages to train Joey to pull water so that her father can do farming. However, a heavy downpour destroys the crop, so her father is compelled to sell the horse to the army in order to pay his rent.
Rubina begs her father to get the horse back to her. Captain Veer sees the girl's attachment and promises to look after the horse to the best of his ability. Rubina tries to enlist in the army but she is too young, and before the captain leaves with Joey, Rubina ties her father's pennant to Joey's bridle.
In the Chinese War of 1962, Joey is trapped in a barbed wire barrier and rescued by joint efforts of a Chinese and an Indian soldier. The war ends but Joey's ordeals do not. After many more ups and downs, Joey is reunited with Rubina and together they return to the family farm.
The play, though full of moments of action and tragedy, ends up on a happy note.
While the lead role of Rubina in the play was enacted by Kismat Bano herself, the other actors who shared the honours with her were Kalyani Sharma, Dorina Bhuyan, Mukut Nath, Apurba Thakuria, Partha Haloi, Partho Bordoloi, Utpala Bose, Rishi Raj Bora, Sameera Khatun, Asma Khatun, Saif Ali, Afreen Ali, and AhilKhatri.
Kismat, at a very young age, has already acted in over 25 plays in different languages- including Assamese and Hindi and these plays have been staged in many major cities of the country and abroad.
She is a graduate, but soon after completing her higher secondary education, she joined Seagull Theatre in Guwahati under the patronage of Bhagirathi and Baharul Islam.
Kismat established her own theatre troupe Wings Theatre (cultural group) in Guwahati and devotes a lot of time in training the differently-abled children of the society in the art of theatre. She is a recipient of the 'scholarship to young artist' by the Government of India.