Referring to the Centre's Act East Policy, Assam Education, Finance and Health Minister Himanta Biswa Sarma on Saturday asked the people to make Assam a Centre of Excellence in all spheres so that it could lead in the Southeast Asian region, which would be an integrated region.
Addressing the fourth convocation of Kaziranga University as the Chief Guest, Sarma said that post-partition, Assam and other States of the Northeast had been placed in a disadvantageous position both geographically and economically with a 22 km of land forming a chicken neck as the only land route making transportation and carrying of goods very costly.
"This disadvantage can,  however,  throw open many doors of possibilities if we do not look to the mainland for everything but concentrate on  this region and the other South East Asian countries as a single socioeconomic entity  with Assam as the hub," he said.
Listing the number of new universities and medical colleges on the anvil, Sarma further said that these bastions of education in the private and public sphere should not just be legitimate academic Centre but should transform into centres of academic excellence so that at least 30 per cent of the students here be from Myanmar, Bhutan and Bangladesh. He also said the Northeast has immense tourist potential to develop different enterprises.
Sarma asked the students not to be a part of the brain drain but be human resources which would help this region grow and develop.
Citing an example he said that cardiac surgeon Apurba Sarma had come away from Dhaka and now practised in Guwahati.  "His chamber is always full of people from Bangladesh who now do not go to Kolkata.  We have the potential, we have to create unique property and this place will become a prime place," he said.
"Gaining a degree, getting a job, getting a job and educating your children in the same manner should not be your sole objective.  You should give back to society in small ways, be it planting trees or watering them, helping an old man cross the street or spending time with and positively motivating those younger to you.  Each one of you should be leaders in their chosen fields and chase their dreams," he said.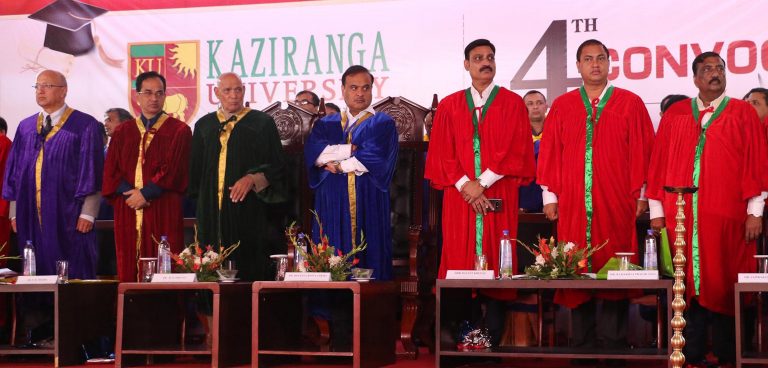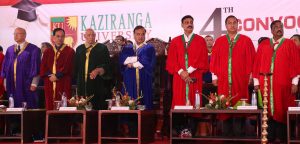 Jorhat MP Kamakhya Prasad Tasa, who also addressed the convocation said that attaining a degree here did not mean that this was the end, in the larger world that would have to face challenges which were not thought of," he said.
The University conferred Doctor of Philosophy honorary causa degrees to inventor and innovator Uddhab  Bharali and boxer Mary Kom in absentia.
SK Baruah, Managing Director, Numaligarh Refinery Limited, said that industry and academia should work together and they were exploring avenues in which Kaziranga University could provide infrastructure and the funds.
Among those present in the gathering were Assam Agricultural University Vice-Chancellor KM Bujarbaruah, economist Jayanta Madhav, educationist Shantikam Hazarika and others.
Vice-Chancellor PK Misra delivered the welcome address while Chancellor MD Khetan delivered the inaugural address.
A total of 436 students were given graduate and post-graduate degrees.