Accoland, an amusement and water park, located along Rani Road, near BSF Headquarters at Patgaon area on the outskirts of Guwahati, has been closed by the Kamrup (M) district administration for an indefinite period.
The Kamrup (M) Deputy Commissioner (DC) recently ordered a magisterial probe into a complaint that the water used in the amusement park was contaminated due to which the members of the complainant developed skin allergy and rashes after returning home from the park.
According to information, the district administration has ordered Accoland authority to keep the amusement and water park closed until they can make the park fit for use by visitors with all proper facilities.
Kamrup (M) officials recently carried out an investigation in the park for almost two hours in Accoland after which a number of anomalies were detected.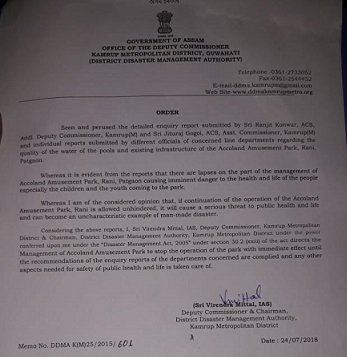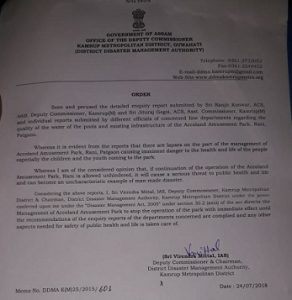 The probe was initiated after a woman from Barpeta lodged complaint against the amusement park
Following an order issued by Kamrup (M) Deputy Commissioner Virendra Mittal, a team of officials led by Additional Deputy Commissioner (ADC) Ranjit Konwar conducted a raid at the park on Saturday. After the raid ADC Ranjit Konwar had reportedly said, "During investigation, we have detected a number of anomalies in the park. The quality of the water used in the park is not good, especially the water that is being used for the 'sliding' in the park. The water is sourced from a dirty pond located at the back of the park." He also said that the high structures of the park were also violating norms.
DC Virendra Mittal asked ADC Konwar to submit the investigation within seven days.
It may be mentioned that earlier, an inspection was carried out in Accoland in October 2017 and a number of recommendations were made at that time. "But it has come to light now that the recommendations were not followed by the park authority," Konwar had reportedly said.