The rise in cases of unnatural death of wild animals and casualties in man-animal conflict is due to the greedy nature of a section of unscrupulous people.
The rampant destruction of flora and fauna has forced the wild animals to stray into human habitation leading to man-animal conflict.
This was observed by Assam Forest and Environment Minister Pramila Rani Brahma at a seminar on afforestation and man-elephant conflict organized under the guidance of State Minister for Food and Civil Supplies and PHE, Rihon Daimari at Bhairabkunda tourism complex along the Indo-Bhutan border in Udalguri on Saturday.
Brahma stated that the State Forest Department has adopted various measures to curb the killing of rhinos and other wild animals and it has been successful to some extent.
She further stated that along with the forest officials the foremost responsibility to protect the resources of the national park and wildlife sanctuaries also lies on the hand of villagers residing on the fringes to stand firm against the poachers and not shelter any such poachers an co-ordinate of their movements.
In an interactive session with college and school students, the Forest Minister was put up with queries regarding safety measures of animals during the annual floods in Kaziranga National Park.
Brahma in her reply stated that the Forest Department has created nearly 33 highlands inside Kaziranga National Park to protect animals during the annual floods and more are in the pipeline.
"While some animals meet with accidents on the highway during floods, the Kaziranga National Park authorities has effectively put into place the Time Card System for traffic control during floods," she added.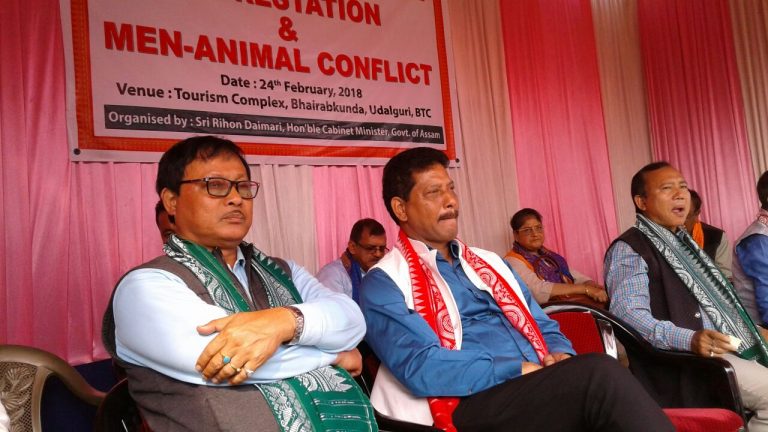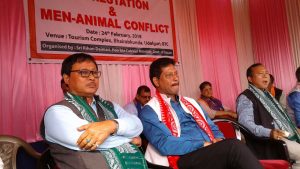 Laying emphasis on the aspect of afforestation, the Minister stated that it has been made compulsory for every forest staff to plant 100 saplings each and exhorted everyone of the State to plant at least four saplings each. She also appealed to the younger generation of the State to aspire for civil service examinations.
Replying to the failed tranquilizing effort of a female tigress which has been creating terror at Borobazar village in the vicinity of Orang National Park, Brahma stated that the tigress was pregnant and tranquilizing it might prove fatal.
The programme was also attended by State Minister of Food and Civil Supplies and PHE, Rihon Daimari; Mazbat legislator, Charan Boro; Tamulpur MLA, Emmanuel Mushahary; Speaker of BTC Assembly, Tridip Daimari; Dhansiri divsion DFO, M K Sarma among host of students and wildlife lovers.