In a significant development amidst the tension over killing of five people in Tinsukia district, the Barak Valley Zonal Committee of the United Front of Former ULFA, an organisation of pro-talk ULFA militants, on Monday filed an FIR against seven political leaders and activists for allegedly making provocative statements.
Anamul Haque Laskar, general secretary of United Front of Former ULFA's Barak valley wing, filed the case against All India Mahila Congress president and Silchar MP Sushmita Dev, Karimganj MLA Kamalakhya Dey Purkayastha, Hojai MLA Shiladitya Dev, Gauhati High Court lawyer Pradip Dutta Roy, Minister of State of Railways Rajen Gohain, Congress leader Siddique Ahmed and Congress leader Chandan Sarkar.
In the FIR, Haque Laskar said, "These seven leaders, along with some other people, have incited violence by making inflammatory speeches and they are equally responsible for Tinsukia killing. The killing incident took place immediately after some venomous statements of Pradip Dutta Roy came out in media. We demand immediate arrest of the mentioned for being indirectly involved in the killing of five people in Dhola."
Five innocent people were gunned at Kherbari under Dhola police station in Tinsukia district on November 1 by suspected ULFA (I) militants.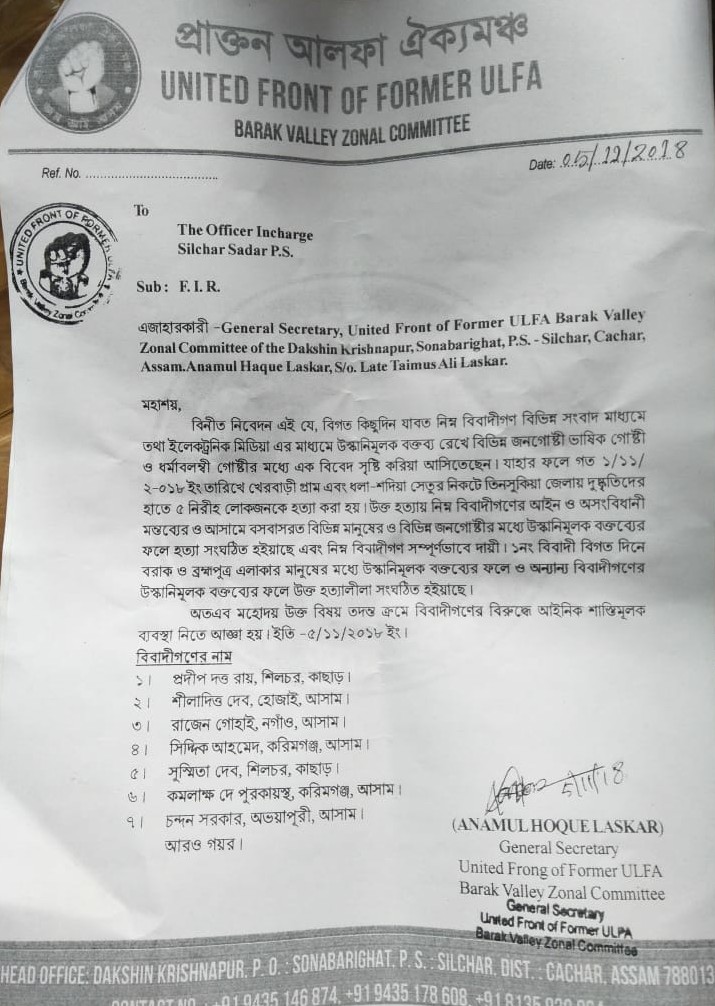 On the basis of the FIR filed by Laskar, Silchar police registered a case (number 3852/19) against these leaders at Silchar' sadar thana, under sections 120 (B)/153 (A) of the IPC.
Later, talking to Northeast Now, at Sonabarighat on the outskirts of Silchar, Laskar said, "The divide between Barak and Brahmaputra valley has reached its peak owing to the inflammatory comments made by these leaders from time to time. Their comments are unconstitutional and are only fuming hatred between communities and not doing any good."
"Who has given the authority to Pradip Dutta Roy to talk about Barak separation? Who is he? Let him first make a name for himself then decide to speak on behalf of the people of Barak valley," said the former ULFA leader.
Meanwhile, filing of an FIR against these leaders has sent ripples around the political circles of Barak valley, if not Brahmaputra valley for now.