The first edition of North East Olympic Games 2018 was inaugurated at the Main Stadium of the Khuman Lampak Sports Complex in Imphal of Manipur on Wednesday.
The Games is being organized by Manipur Olympic Association (MOA) and the eight participating north-eastern states including Sikkim are competing in 12 sports disciplines during the five-day long Games.
The disciplines are archery, athletics, badminton, boxing, football, judo, karate, shooting, table tennis, taekwondo, weightlifting and wushu.
With 253 participants, Assam becomes the biggest contingent while the Tripura contingent is the smallest with 151 participants.
The host Manipur has 245 participants.
Manipur Chief Minister N Biren Singh and president of MOA Th Radheshyam Singh were the chief guest and functional president respectively of the opening ceremony at Khuman Lampak main stadium in Imphal.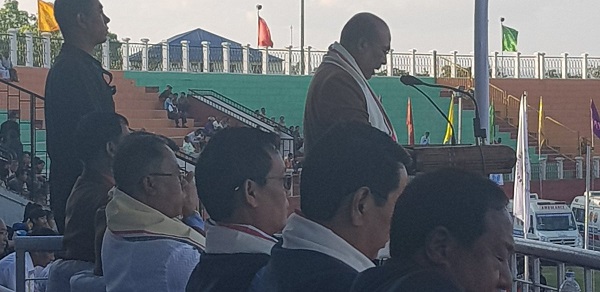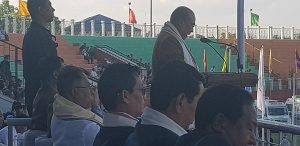 Addressing the function, Chief Minister Biren said that various sports persons from the north-eastern states made various achievements in the regional, national and international arena.
He said North East Olympic Games will provide valuable exposure and experience to young participants and inspire future sportspersons. It has been a long cherished dream of the region to create a platform to bring peace and friendship through sports, he added.
Informing that the Northeast India has a distinct identity with similar culture and features, he said that sports have become an increasingly inspirational and aspiring career option and presents tremendous potential for the young and talented sportspersons in the region.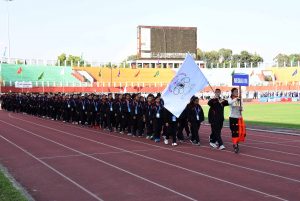 In his speech, MOA president Radheshyam who is also the State Education Minister said that it is the beginning of the Association to offer a common platform to show the path of peace and harmony through the spirit of games and sports.
The Games will be a grooming ground for the young talents of the region, he added.
Chief Minister Biren also took salute of the march past of eight teams during the opening function which was attended by Minister for Youth Affairs and Sports Letpao Haokip, Minister for Health and Family Welfare L Jayantakumar Singh, Minister for Sports and Youth Affairs, Government of Arunachal Pradesh Dr Mohesh Chal and others.