An FIR has been lodged against AIUDF MLA of Hailakandi constituency Anwar Hussain Laskar for verbally abusing a state government official posted as 'Mandal' at the ASO office at Lala in Hailakandi on Thursday.
As per reports, the case has been registered at Hailakandi Sadar Police Station against the MLA for his alleged rude behaviour.
In the FIR, the complainant 'Mandal' Faiz Uddin Laskar, who is currently engaged in the verification duty of Aadhaar enrolment in Vidya Mandir of the district, mentioned of being "unnecessarily abused" by the MLA.
Speaking to media in this regards, AIUDF MLA, Anwar Hussain Laskar vehemently denying the allegations claimed a big Syndicate Raj has been hatching a conspiracy against him since the last couple of years.
"I have been constantly raising my voice against corruption in the district and the administration, thus, I am being targeted," MLA Anwar Hussain Laskar told Northeast Now.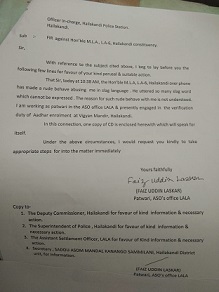 He also stated that during the flood, the administration was supposed to renovate the residences of the flood victims; however, no such steps were taken so far. Therefore, he himself decided to take the matter to the Deputy Commissioner of Hailakandi along with the 'Mandal' Faiz Uddin Laskar.
It has also been reported that on Thursday at around 10:38 am the legislator over the phone has abused the 'Mandal'.
Reacting to this, MLA Anwar replied, "All the flood victims were asked to pay Rs 20,000 to Rs 25,000 to the 'Mandal' so that they can renovate the losses for full damages of the houses. However, no work was carried out till date. In fact, when I went to the spot recently, all the victims came to me complaining the matter that no renovation work was started so far as they are poor."
"I called up 'Mandal' Laskar and asked him to meet me so that the issue gets resolved. But, he seemed to be insincere."
He also claimed that as an MLA and people's representative it is his right to know about the matter. "Corruption in the district is still going on. Few of them are also engaged in betel syndicate, sand syndicate," the MLA alleged.
It may also be mentioned that, the FIR copy registered by the 'Mandal' reads, "MLA Hailakandi uttered so many slang words which cannot be expressed. The reason for such rude behaviour with me is not understood…Under the above circumstances I would request you kindly to take appropriate steps into the matter immediately."
Meanwhile, Sadou Asom Mandal Kanango Sanmilani in memorandum to the Deputy Commissioner urged the authority concerned to take prompt action into the matter. They have also enclosed a recorded copy of the conversation in a CD as evidence to the administration.