Sikkim Krantikari Morcha (SKM) lodged an FIR against Sikkim Chief Minister Pawan Chamling at the Sadar Police Station in Gangtok on Tuesday afternoon for allegedly making 'derogatory' remarks against women.
The Sikkim CM had allegedly made derogatory remarks on the monthly menstrual cycle of women in a meeting on December 5 last year.
Also read: Sikkim: SKM seeks CM's apology on 'derogatory' remarks
The FIR, which has been filed by leaders and workers of SKM Nari Morcha, requested the police for legal action against the CM for making derogatory remarks against women and for publicly insulting the modesty of women and regarding discrimination amongst various groups, his malicious and communal remarks against different castes and his derogatory comments regarding their religious beliefs.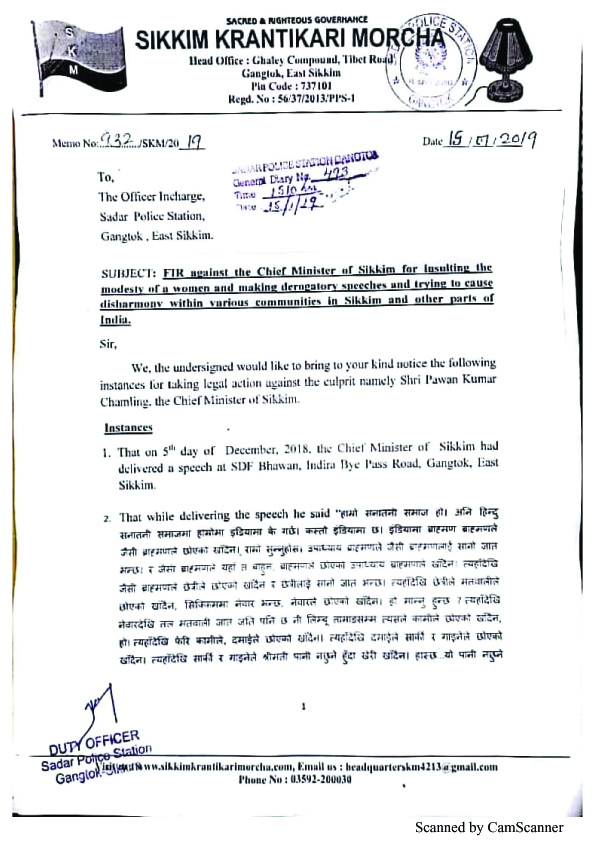 Addressing a press conference here on Tuesday, SKM Nari Morcha (East & North Sikkim district) reiterated its demand of an apology from the Sikkim CM to the women community in the public for his remarks and threatened to continue with their protest until the apology.
SKM State women's wing vice convener Ganga Parsai stated the remark was the humiliation and disrespect to women and the women community cannot tolerate such remarks.
She also refuted and condemned the statement of an SDF woman leader, Beena Rai of West Sikkim that the Sikkim CM highlighted this issue for the mass awareness. She added that it was not for awareness in any means but it was the direct humiliation hurting the women's sentiments.
She added that after insulting the women to call it for awareness was not tolerable for any woman.
Parsai questioned the women wing of the ruling party on closing their eyes on the issue and suggested it to watch the video clip once again properly. She also raised question over the present whereabouts of a woman minister of the ruling party.
SKM vice-president Chung Kipu Lepcha, East Sikkim district chief convener, Prabha Pradhan and Chalak Morcha vice-president Rajani Gurung asserted that the Sikkim CM should apologise to the women for his remarks, otherwise threatened to continue with the protest against the CM's remarks.
Nari Morcha general secretary Pavitra Bhandari suggested Cheli Morcha of the ruling party to carefully read the chapter 'Anek Adhyay Ma Beena' from a book 'Afnai Maan Ka Pardesh Haru' by Pravin Rai Jumeli, husband of Beena Rai, to know the situation of women in Sikkim.