The second edition of the International Fide Rating Chess tournament started on Sunday at the Deshbhakta Tarun Ram Phookan auditorium in the RG Baruah sports complex here.
The tournament has been organized by the Chess Players' Parents' Forum in association with the Guwahati Chess Association and the All Assam Chess Association.
Senior sports journalist and general secretary of the All India Sports Journalists' Association, Subodh Malla Baruah, inaugurated the tournament.
Guwahati Chess Association president Manoranjan Basumatary, organising committee working president Partha Dev Goswami, organising committee general secretary Lachit Barman and other distinguished personalities were also present in the programme.
Around 251 players from different States including Madhya Pradesh, Andhra Pradesh, Tamil Nadu, West Bengal, Delhi, Haryana, Chattisgarh, Uttar Pradesh, Jharkhand, Rajasthan and the northeastern States have taken part in the tournament.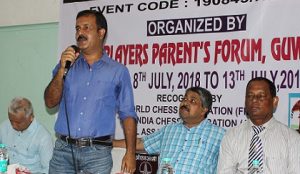 Two Grand Masters – Diptayan Ghosh and Saptarshi Roy Chaudhary – also took part in the second edition of the International Fide Rating Chess tournament. Ghose and Chaudhary both hail from West Bengal.
The tournament will conclude on July 13, 2018.
According to information, the tournament will carry a total prize money of Rs 3 lakh.
As per reports, while the champion of the chess tournament would receive Rs 50,000, the runners-up of the tournament would get Rs 30,000.
On the other hand, top 30 players would receive cash prizes. Besides, the top four players from under-7, under-9, under-11, under-13 and under-15 categories will also get prizes.