The rhythmic sound of kham, siphung, jhota, serja, jabsing, pepa, gongona filled the air in every nook and corner of Bodo heartland Kokrajhar as people celebrated Rongjali Bwisagu or Rongali Bihu with abundant euphoria.
The infectious flavour of music and dance were visible everywhere as people, young and old, men & women alike were seen celebrating the spring festival and involved in merrymaking, singing and dancing to the tune of kham, sifing, serja, jabsring and the like as well as singing Bwisagu Bihu songs.
In many parts, young boys and girls, elderly men and woman, in groups, were seen visiting door-to-door around the village singing and dancing as well as participate in begging which is part of the tradition.
Also read: Assam Governor, Sonowal greet people on Rongali Bihu and Assamese New Year
The All Bodo Students Union (ABSU) also observed the festival by organizing an open Bwisagu celebration at Kokrajhar Government Higher Secondary and Multipurpose School ground on Tuesday where people from all walks of life were seen participating in the celebration, singing and dancing to the beat of music decked up in colourful traditional attire called dokhna, jwmgra and aronai.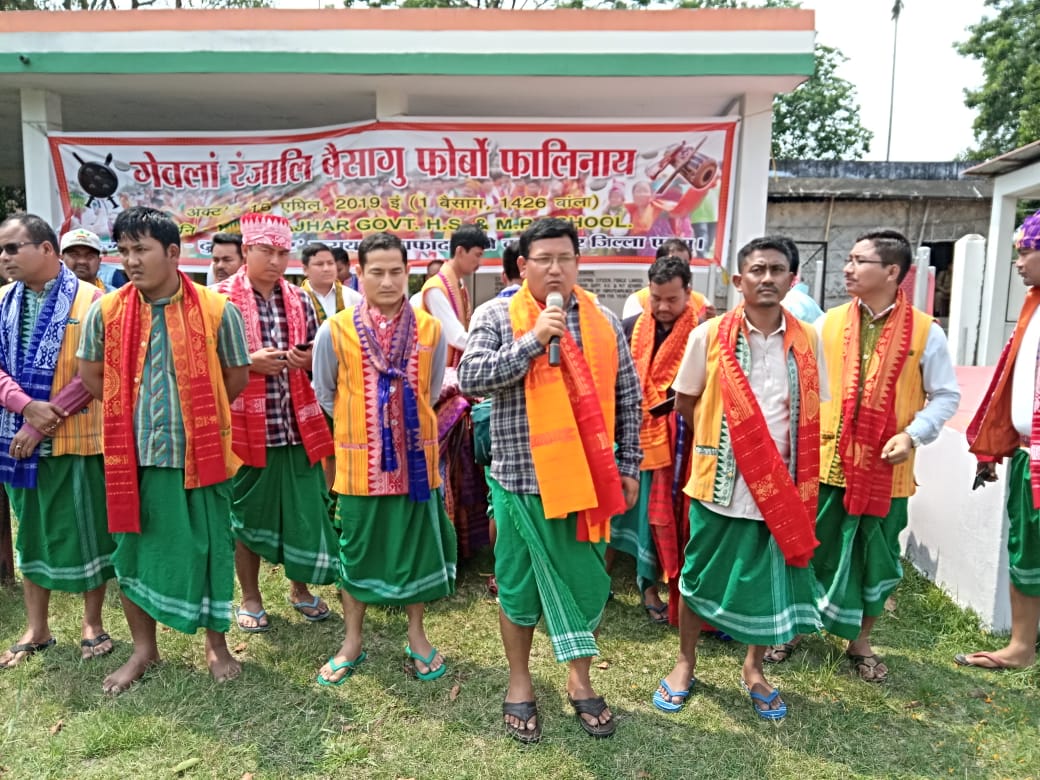 The entire atmosphere was charged up with rhythmic sounds of kham and siphung, serja, zabkring and thorka with melodious Bwisagu songs sung by the Bodo boys and girls.
The ABSU emphasized on the need of community participation to keep alive the age-old tradition of Bwisagu celebration.