Dibrugarh Police on Monday nabbed an imposter who identified himself as a Research and Analysis Wing (RAW) official from the Dibrugarh University's administrative building campus.
The arrested imposter has been identified as 24-year-old Prince Chetri alias Sagar Chetri.
He was arrested along with a toy gun and five numbers of fake identity cards of the Union Ministry of Defence.
RAW is the primary foreign intelligence agency of India.
Prince Chetri hails from Nepali Gaon in Madhupur area under Dibrugarh district.
According to police, Prince Chetri, who earlier used to work as a data entry operator for the Army, had introduced himself as a Lieutenant of the RAW.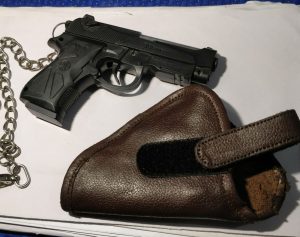 "We have seized his motorcycle bearing registration No AS 09EH 2505. Our investigating is still at the preliminary stage," said a police official at Dibrugarh Police Station.
The police official further informed, "Tomorrow (Tuesday), we will forward him for judicial custody."
Talking to Northeast Now, Dibrugarh Additional Superintendent of Police (Headquarters) Surjit Singh Paneswar said Prince Chetri has been arrested under Arms Act 25 and a case (No 419) has been registered in Dibrugarh Police Station.
"Earlier, the arrested importer had worked as a casual data entry operator in the Army and after that he identified himself as an army officer."