District Congress Bhavan at Hailakandi of Assam, turned into a battlefield on Monday wherein, two factions' fist fights and welding of sticks, not only remained within the confines of their party premises, but went out into the streets for all to see.
For the past few months, the fight between two factions of this party has come out in the open. More so, it started, when Rahul Roy, ex-MLA from Alagapur, took charge as the president of the party in Hailakandi.
A minority section headed by former Zilla Parishad Chairman, Anamuddin Laskar's open resentment of allowing a dynastic politics to thrive in Hailakandi, has added more fuel to the fire. Earlier, the post was held by former minister of Assam Gautam Roy and now his son Rahul Roy is in-charge of this post that is hard to digest by many within the party's command structure.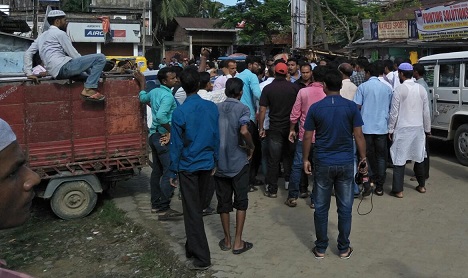 Ex-general secretary of Hailakandi District Congress Committee, Samsuddin Bar Laskar speaking to Northeast Now said, "Hailakandi is a Muslim majority district now and its time that a party member from the minority group should assume charge as the president of this party."
Today, too, while the local media from Hailakandi were interacting with the office bearers of the party on this infighting and issues of discontent among various factions, one faction which is opposed to the present affairs of this Hailakandi District Congress Committee, attacked with sticks and rods.
The retaliatory attacks took this ugly scene to the streets which went on for more than half and hour before the police and the CRPF forces moved in to neutralize the situation.
The matter became for now peaceful, or one can say, for another day, as more ugly scenes are in store in the days to come, quipped a senior journalist who has witnessed every brickbats and fist fights for the last six months, of this two political groups of the same party.