The Assam Congress has expressed serious concern over carrying of EVMs from Tezpur to Amingaon in Kamrup (Rural) district on Sunday night and urged the Election Commission to order a high-level probe into the incident.
Addressing a press conference at Rajiv Bhawan in Guwahati on Monday, APCC spokesman Kishore Bhattacharya said, "A number of vehicles loaded with EVMs were taken to the office premises of the Kamrup (Rural) DC at Amingaon last night in between 10:30 to 11. The APCC immediately dashed off a memorandum to the Election Commission informing about it."
Bhattacharya questioned why the EVMs had to be carried to Amingaon from Tezpur?
The Assam Congress suspects that it was planned to keep the EVMs in the godown of Himatsingka, Bhattacharya said.
He also questioned, "Why Sunday was chosen to carry the EVMs? Why the EVMs were taken from a town area like Tezpur to Kamrup like rural area at night without the knowledge of any political party?
He also alleged that the democratic process has faced trouble which is very "unfortunate".
The APCC has urged the Election Commission of India (ECI) to order a high-level inquiry into the incident, he added.
Talking to reporters, another APCC spokesman Durga Das Boro said that they have no faith on the deputy commissioner of Kamrup (Rural), Kamal Baishya.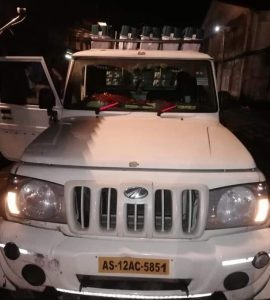 "Only a high-level inquiry will unearth the mystery," said Das Boro. He also demanded that Baishya be immediately transferred.
According to reports, the EVMs have been stated to be 'unused EVMs' purportedly sent from different districts of of Assam in a place adjacent to the strong room situated at Amingaoan.
He also alleged that there has been corruption in various government departments.
Das Boro questioned Assam chief minister Sarbananda Sonowal whether the incidents of corruption don't give him pain or not. He also claimed although the chief minister had announced probe into several cases of corruption, the results have not been declared.
He also demanded that fresh examination be conducted for appointment in the Assam Power Distribution Company Limited (APDCL) held at Nagaon on Sunday as the question papers of the examination were leaked.
The APDCL conducted written examination for appointment in the posts of grade III and grade IV.