Chandra Kumar Bose, the grand nephew of Subhash Chandra Bose, said the decision to declassify secret files of Netaji Subhas Chandra Bose still stands as reiterated by PM Narendra Modi.
He said this while delivering the keynote address at the PWD Convention & Training Centre Guwahati on Tuesday, on the occasion of Netaji's 121st birth anniversary.
"It was in 2016 when the NDA government took the decision to declassify all files and ushered in transparency. By reiterating his commitment today, our Prime Minister Narendra Modi has assured us that the secret files will be declassified soon," Bose said.
"There should be a Special Investigation Team (SIT) so that the responsibility of rectification of history is completed," he added.
He further noted that the process is on to recover files from Russia, Japan, UK and USA as well.
He also spoke about the special role of the North-east by highlighting that on April 14, 1944, the flag of Indian National Army (INA) was hoisted in Moirang (now in Bishnupur district of Manipur) for the first time.
A discourse on 'Netaji: The Revolutionary Pilgrim of India's Independence' was organized by Indian Nationalist Alliance – North East as part of the event.
Gracing the event as chief guest, Assam Chief Minister Sarbananda Sonowal said, "The young generation, specially, the student community should inculcate the values that Netaji stood for. His sense of devotion and commitment to the country will always be remembered."
"In Assam, we have learnt to live together. By following the principle of 'sabka saath, sabka vikas', the society is integrating and gaining strength," Sonowal noted.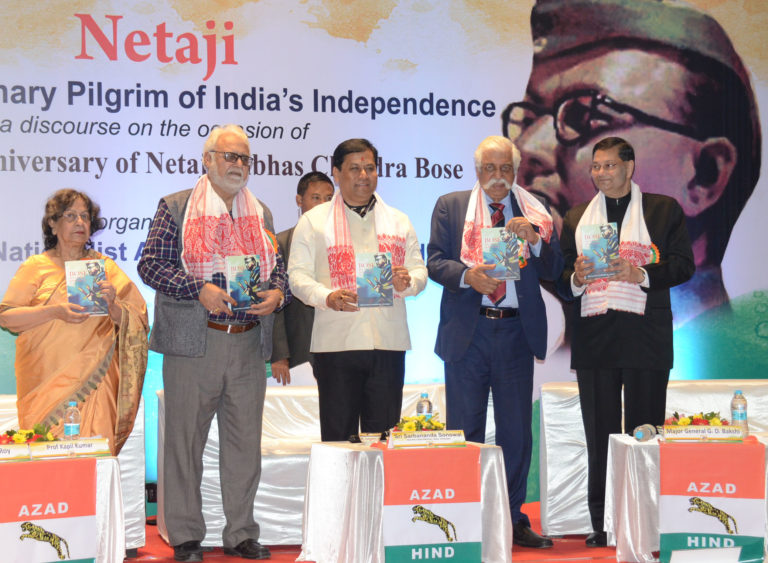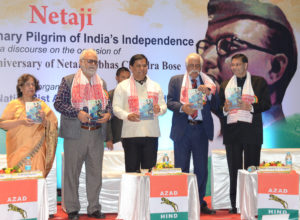 Sonowal also released a book titled 'Netaji – The Indian Samurai' authored by Major General GD Bakshi on the occasion.
As part of the discourse, noted researcher and author, Dr. Purobi Roy delved into the Russian angle of Netaji's mysterious disappearance. Through her presentation, she showcased how Assam too played a pivotal role as Subhas Chandra Bose communicated through the radio stations here.
Speaker Major General GD Bakshi said, "The values and spirit of Netaji is kept alive in the Indian armed forces."
He further questioned why the Intelligence Bureau files have not been released. He spoke about the fallacies in the air crash theory regarding Netaji's disappearance through his presentation.
Leading historian, Prof Kapil Kumar emphasized on the need to rewrite Indian history with the correct perspective.
Dilip Kr Paul, Deputy Speaker, Assam Legislative Assembly graced the event as guest of honour. Other esteemed guests who were present were Naba Kumar Doley, Minister for Sports, Youth Welfare and Cultural Affairs; Keshav Mahanta, Minister for Water Resources; Dr M Angamuthu, Deputy Commissioner Kamrup (M) and MLAs Prasanta Phukan and Utpal Borah.