The Stilwell Road, built by US engineers during World War II, fell into disuse after the war, but 'Mandalay', a book by journalist Mrinal Talukdar, has traced rhino horn trade from Assam through Nagaland and Manipur in India to China via this road.
The 1,726 km-Stilwell Road goes through treacherous hills from eastern Assam's Ledo to Kunming in China's Yunnan province.
A report published by The Hindu on Saturday, stated: "Stilwell Road fell into disuse after 39,000 tonnes of supplies were moved in November 1944. But more than 500 one-horned rhinos of Kaziranga National Park (KNP) have died in the last 70 years to maintain the terrestrial link between Assam and China, albeit via a different route."
As per the report, the book has drawn on years of investigations by two officers — Deben Bora, officer-in-charge of Jakhalabandha Police Station near Kaziranga National Park and Pranjal Baruah, a forest range officer of KNP's Northern Range (which has recently been upgraded to a division).
It has also been reported that interrogations of poachers also led the police and forest officers to a mysterious person, called Lampu.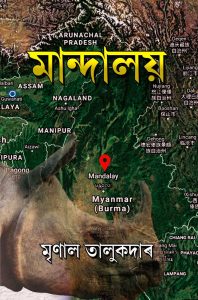 The report quoted Deben Bora as saying, "We are not sure if he (Lampu) exists, or is an alias of someone who heads an international crime syndicate. But we know he operates from Myanmar."
With no investigating agency, the real name, photograph and location of Lampu are available.
The report quoted author Mrinal Talukdar as saying, "He (Lampu) is a shadowy figure, a phantom who controls the rhino horn trade somewhere between Kalay and Mandalay in Myanmar."
In order to collect facts during his research into the rhino horn trade, journalist-author Talukdar has toured Cambodia, China, Myanmar, Thailand and Vietnam for nearly three years.
As per the anti-poaching units' revelations the Myanmar cartel operates through Nagaland and Manipur networks with involvement of extremist groups.
The report further quoted Talukdar as saying, "The Manipur network operates through terrorists, who use assault rifles such as AK-47 and M4. Members camp on the Anjukmani Hills in (Assam's) Karbi Anglong district south of Kaziranga, come down to the jungle for a kill, return to the camp with one or more horns, lie low for weeks or months before slipping out of Assam."
The Naga poachers belonging to the Sema or Sumi tribe recruit Karbi people of Assam to supply arms. It has also been claimed in the book that "local Muslims near the KNP are hired as scouts to locate rhinos. The Naga shooters do not camp but come, kill and move out."