Miscreants gunned down a BJP ward secretary  in front of his house in Agartala on Saturday night. The victim, identified as Biswajit Paul, was a resident of Milanchakra Adarsha Palli. Police picked up one Pranjit Bhowmik along with a 9 mm pistol and five live cartridges following an FIR lodged by the victim's family.
It is learnt that Paul was a ward secretary of BJP  a medical representative by profession. He was gunned down from very close range in front of his residence on the fateful night.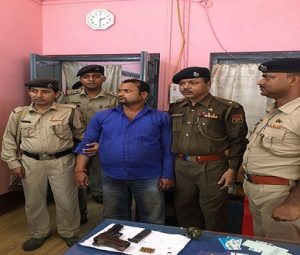 Dog squad of Tripura police was pressed into service and forensic team visited the spot of the incident. However, police are yet to make any breakthrough in this incident of murder. An FIR was lodged and two persons were named in the FIR.
According to police Paul was shot dead from close range. Police suspect the killers were known to Paul. Police are now interrogating Pranjit Bhowmik in this connection and reportedly got some clues into the incident. Investigation is on.
Political violence in Tripura is not a new occurrence. The state has witnessed series of clashes between the Left and the BJP supporters before and after the Assembly elections.