A University Grants Commission (UGC) sponsored two-day National Seminar on Biodiversity and Wildlife Conservation Biology (BWCB-2018) was held at Digboi College recently.
The national level seminar was organized by Department of Zoology in collaboration with Aaranyak, a scientific and industrial research NGO working for conservation of wildlife, Guwahati.
Altogether 45 research papers with various sub-themes were presented by many research scholars and faculty members converging from several states across the country.
The inaugural programme started by lighting the lamp by various invited renowned personalities followed by a welcome borgeet song by Jyotishman Moran, a student of Zoology Department.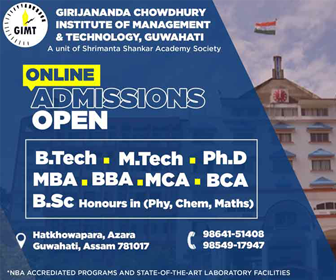 Dr Dip Saikia, principal of the college delivered his welcome address while Mr Rajib Rudra Tariang, convenor of the national seminar delivered the purpose of the meeting.
There were five technical sessions and in each session, various keynote speakers delivered their eminent lectires. The invited guest Prof S P Biswas, Department of Life Sciences of Dibrugarh University delivered his speech on, 'Aquatic Fauna of the Brahmaputra Basin' and chaired two technical sessions.
Prof Jatin Kalita, Head, Department of Zoology of Gauhati University delivered his speech on 'Conservation of Biodiversity in the Human Dominated Landscape' and chaired a session. Dr Bibhab Kumar Talukdar, secretary general and CEO of Aaranyak, delivered his speech on cultural ecology and role of NGOs towards wildlife conservation and chaired a session.
Dr Firoz Ahmed, Head, Tiger Conservation Division of Aaranyak delivered his speech on 'Wildlife Management and Wildlife Research in India' and chaired a session.
Prof Salvinder Singh, Department of Biotechnology, Assam Agricultural University, delivered his address on 'Climate Change and Its Consequences'.
In another poster session, Prof Salvinder Singh and Aparajita Gogoi, Head, Department of Zoology chaired and co-chaired the poster session respectively.
Saibal Dev, former Head, Department of Zoology of the college also co-chaired one of the session and Kishor Haloi, assistant professor, Department of Zoology proposed the vote of thanks.