After the Higher Secondary Examinations and graduation examinations are over, students of Assam will get an opportunity to choose their future career in the forthcoming education exhibition "16th Guwahati Edufest", that is going to be held at the TRP Stadium, Guwahati on April 30 & May 1.
Lynchpin is going to organize the 16th Edufest 2018, the hub of educational institutions and one point of contact for all students and the Institutions.
This year's career fair will see around 50 reputed Institutions from India and abroad including Australia, Switzerland and Singapore. From Nautical Science, Aeronautical Engineering, Filmmaking, Fashion Designing, Hotel Management, Tourism and Aviation to popular Business management programmes and many more, it is the place to be for those who dare to dream.
Edufest is known to facilitate direct interaction with the representatives of the Institutions which means all the queries about qualifications required for courses, cut-off information or scholarship opportunities can be cleared on the spot. The Exhibition will be open each day from 11 am to 7 pm.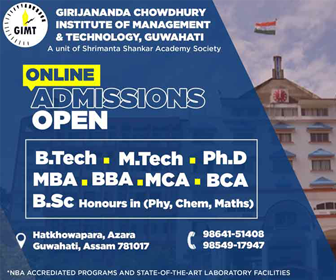 This year's Edufest is power packed with Career Matching Tests from My Career Match Australia, Photography Workshops by Nikon and Drama Workshop by National School of Drama Alumni.
Students therefore can find out about career options across not just careers in Science and commerce & humanities but also off beat careers.
My Career Match is a test which is used by 67% of Australian students as a guiding tool for career choices. This test tries to match a student's personality to the best possible career options that a student is suited for. The test is expensive but students who take it would be able to do so free of cost at Edufest only.
"This is the 16th edition of Edufest, and we are privileged to once again bring leading educational institutes from India and abroad to the doorstep of students here," said Kaushik Barua of Lynchpin, organiser of Edufest and pioneer of career and education fairs in the Northeast.
"Our exhibitions are considered the most trustworthy exhibitions in the region by the student community and parents as only accredited, top institutions from India and abroad participate in them," he added.