Sweta Agarwal murder case prime accused Govind Singhal on Sunday was sent to five-day police custody again.
Govind was produced at Chief Judicial Magistrate (CJM)'s court in Guwahati after the completion of his five-day police remand.
Bharulmukh police arrested Govind, his mother Kamla Devi, 48, and his sister Bhavani, 23 on Monday last.
The charred body of Sweta, a fifth semester BCom student of K.C. Das Commerce College, was recovered from the bathroom of the rented house of her friend Govind, 21, at Santipur in Guwahati on Monday evening.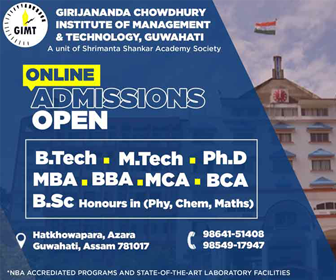 Police said Govind's confessional statement has not matched with the post-mortem examination report.
Govind had told the police during interrogation Sweta got killed after he pushed her towards the wall in the fit of rage, Guwahati Police Commissioner Hiren Nath had said.
He said this was done following a quarrel at boyfriend Govind Singhal's residence.
He then burnt Sweta's body after pouring kerosene on it, Nath had said.
Police are trying to recover the mobile phone and other belongings of Sweta, which Govind claimed to have thrown into the nearby stream.
The post-mortem report, however, revealed a 'sharp weapon' was used to kill Sweta.
Police, however, is yet to recover the 'sharp weapon' used to slit her neck.
Govind was on Friday taken to his house in Santipur area by a team of investigators where the crime scene was recreated.
A handcuffed Govind explained the pre and post-murder circumstances leading to the death of Shweta and how he later tried to cover up the crime by putting the body into the gunny bag and subsequently opted to burn it.
Police also recovered the rope with which the gunny bag was tied. Besides, the 'sharp weapon' which found a mention in the autopsy report, has been sent for forensic examination.