Assam Chief Minister Sarbananda Sonowal on Saturday advocated for research based employment driven curriculum for higher education which should be restructured every five years to keep the education system in tune with the changing times.
Holding a review meeting of the Higher Education Department of the State at the conference room of his office in Janata Bhawan on Saturday evening, Chief Minister Sonowal said, "Education system is the mirror of a society which should have an answer to every phenomena happening in the society. An education system with deep rooted emphasis on research and development would go a long way in solving various societal problems of our society."
Sonowal also said 'in today's society, unemployment is a key issue and education should be imparted to stimulate the employability quotient of the students'. He also said that the curriculum of school, college and university education should be restructured every five years to keep it attuned with the changing times.
Sonowal also advocated for encompassing components like skill, research education, culture, sports and industry within the ambit of education to help the students respond to the present need of the society more effectively. Taking a note of the Gross Enrolment Ratio of Assam, which is 17. 2 per cent at present, of the students between 18 to 24 years of age, Sonowal asked the Principal Secretary, Higher Education, Ajay Tiwari to take steps to make higher education more skill driven and career oriented through participatory teaching to stop brain drain of the students from the State.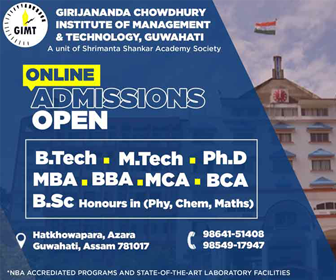 He also issued instructions to revamp polytechnic colleges in the State and transform them into skill centres. He also reviewed the progress of setting up of three universities namely Sri Sri Bhattadev University in Barpeta district, Sri Sri Madhabdev University in Lakhimpur and Kabi Guru Rabindranath Tagore University at Hojai.
He also asked the Higher Education Department to expedite the process of starting the academic activities of the proposed Cultural University at Majuli.
He said that till the new cultural university gets its exclusive campus in the district, academic activities should start from an alternative accommodation from this year itself.
Sonowal also asked Principal Secretary Ajay Tiwari to expedite setting up of private universities like University of Marine Science, Amity University, Techno India University, CV Raman University to which MoU has already been signed. He also asked for necessary administrative intervention for creating sports infrastructure in every college in the state and it may be noted that an MoU was also singed to that effect.
Adviser Higher Education to Government of Assam Dr. Mihir Kanti Chowdhury, Principal Secretary to the Chief Minister, Sanjay Lohiya, and senior officers of Higher Education Department were also present at the meeting.