Lahowal MLA  Rituparna Baruah and Dibrugrah Deputy Commissioner Laya Madduri, on Thursday inaugurated a Skill Development Training Centre in Dibrugarh. The centre is located at Bairagimoth in Dibrugarh.
Speaking on the occasion, MLA Rituparna Baruah said, "For self-reliance, there is no alternative for unemployed youths of the state to develop and upgrade their knowledge and skill through proper training programs.''
The centre is an initiative under Assam Skill Development Mission, with an aim to make youths skilled. They will provide training to the unemployed youths in 12 different trades.
Dibrugarh Deputy Commissioner Laya Madduri said that the skill centre will immensely help the employed youths of the district. "Our main focus is to impart quality training to the youth and through which they can easily get jobs in industries."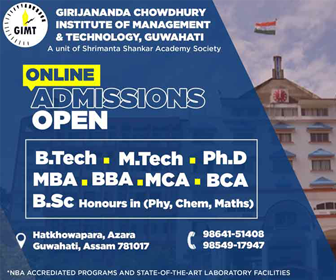 The Pradhan Mantri Kaushal Vikas Yojana (PMKVY) is the flagship scheme of the Ministry of Skill Development and Entrepreneurship (MSDE). The objective of this skill certification scheme is to enable Indian youths to take up industry-relevant skill training that will help them in securing a better livelihood.
Dibrugarh Municipal Board Chairman Soma Chakravarty, Valeur Fabtex Pvt. Ltd Director Ranjit Gogoi  were present at the event.